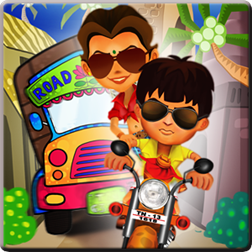 SPONSORED

Description
A fast paced running game based on the movie Chennai Express, with an unique Indian flavour, where you take on the role of Rahul or Meena, two of the main protagonists of the movie and embark upon an exciting and colourful running adventure. Fight your way through an army of thugs dropped by helicopters while dodging obstacles like trucks, buses, cars, autos, coconut carts, manholes and more.
Features
• Exciting fast paced unlimited 3D running action with simple controls and immense replayability. Smash enemies out of your way with a simple tap on the screen!
• Purchase Magical Urns (continue your scoring spree through magical resurrection) using the coins collected in-game. You can also upgrade the time duration for which all power-ups last, allowing you to enjoy their benefits more!
• Beautiful and eye catching 3D graphics featuring the picturesque town of Rameshwaram.
• A catchy unique Indian background music score that adds to the immersiveness.
Screenshots
Info
Download size
14 MB
App requires
phone identity
media playback
data services
movement and directional sensor
HD720P (720×1280)
WVGA (480×800)
WXGA (768×1280)
SPONSORED