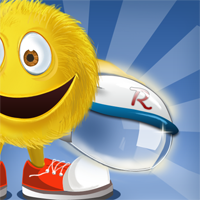 Description
Roundy Dash is a much addictive fast paced run-and-jump game.
Any feedback please email us, because we can't reply on comments. Thanks very much for all your support in our games!
If you like Temple Run, Oven Break, iRunner, Runaway Pengy or Run like hell, you shouldn't miss this game, with great lively graphics as well as brimming fair-sounding music.
SPONSORED

Control this cute Roundy to jump and slide through a variety of obstacles in the countryside and forest while running at an increasingly fast speed.
Collect as many coins as you can along the way to increase your score and the Life pills will give you additional lives. Collect all kinds of gifts and he will change to "Super Roundy", speed up and double score! It will be a more exciting challenge!
"I want to go home and I miss my Mummy." The lovely and hungry Roundy runs like hell and he just believes home is near! What a darling Roundy! Nobody will leave him alone and let's help him find his mommy.
Dash! Dash! Let's Dash!
What's new in V1.2
– Bug fixed.
What's new in V1.1
– Improve the game performance by fixing some fatal crashes.
– Add a instruction at the beginning of the game, enjoy yourself!
Screenshots
Info
Publisher
AE Mobile
Works with
Windows Phone 8
Windows Phone 7.5
App requires
phone identity
owner identity
photo, music, and video libraries
data services
HD720P (720×1280)
WVGA (480×800)
WXGA (768×1280)
SPONSORED