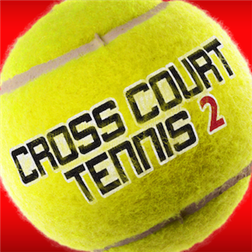 Description
The most realistic tennis simulation on the mobile platform! New and improved, Cross Court Tennis 2 ranks #1 in the world! Real ball physics and pro level ball speed make you feel like a real tennis pro.
UNMATCHED GAMEPLAY Real ball physics and pro level speeds make gameplay realistic. High quality animations show off your slice, topspin, volleys, lobs, and dropshots. Jump in and win with Beginner, Intermediate, and Advanced levels of play.
• UNLEASH YOUR CAREER POTENTIAL
• Create a player by choosing skin, hair, and clothing colors.
• Perfect your skills with your own customized training program.
• Compete in 15 worldwide tournaments with 45 distinct opponents and reach #1 in the world!
• Adapt your gameplay to clay, grass, and hard courts.
SPONSORED

Screenshots
Info
Publisher
Refined Games Inc
App requires
phone identity
media playback
data services
movement and directional sensor
HD720P (720×1280)
WVGA (480×800)
WXGA (768×1280)
Supported languages (10)
DeutschEnglishEnglish (United States)españolfrançaisitaliano日本語한국어русский中文
SPONSORED