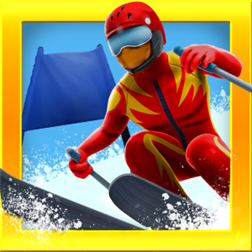 Description
**"A superb fast paced ski game!"**
**FREE download – Tons of content to enjoy**
**High quality 3D graphics**
————————————————————–
Put on your skis and go for gold in this FREE 3D ski simulation!
Start a new career and defend the colors of your country in the 12 tracks of the game.
Improve your skier and reach your full potential to challenge the greatest skiers of all time.
Take the best trajectories and focus on improving your time. Every hundredth of a second will count!
Race against your ghost and challenge your friends in time trial to see who is the fastest.
Are you ready to take on the best skiers in the world?
————————————————————–
Top Ski Racing 2014 features:
•3D environment- Highly optimized HD graphics and smooth physics simulation.
•Hours of gameplay – 12 tracks to compete in 9 different countries.
•Skier training – Improve 5 different attributes and reach your maximum potential to further improve your time on the tracks of the game.
•2 different types of controls – Choose between tilt control or slider!
•First or Third person perspective – Try out the first person camera for a better immersion or choose a classic view behind the skier.
SPONSORED

————————————————————–
Stay tuned to get information on updates and our other games!
Facebook: http://www.facebook.com/azerbostudios
Twitter: http://twitter.com/azerbostudios
Youtube: http://www.youtube.com/azerbostudios
Screenshots
Info
Download size
32 MB
Works with
Windows Phone 8.1
Windows Phone 8
App requires
phone identity
owner identity
media playback
data services
movement and directional sensor
web browser component
HD720P (720×1280)
WVGA (480×800)
WXGA (768×1280)
SPONSORED