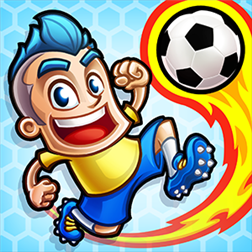 Description
Are you ready for the wildest football party ever?
5/5 Probably the best football game of the world!
5/5 Top game with funny graphics! I love it!
Charge up your soccer ball, calculate power and shoot down every rival in your way! Pass, shoot and destroy your opponents in brilliant battles on the field. Plan effective passes, take down heavy rowdies and smash the goalkeeper to win the match!
'Super Party Sports: Football' is a physics puzzle game full of action and fun. Solve tricky riddles, fight against different types of enemies and score a goal. Take the challenge with players from different leagues and FCs. Choose your favorite 11 to play your own cup finals 2014.
Features:
✔ Smashing physics puzzle action!
✔ 70 levels of tactical fun!
✔ Select your favorite team from different nations!
✔ Collect mighty power-ups!
✔ Rio Samba party sounds!
Thank you for playing 'Super Party Sports: Football!'
Get in touch with HandyGamesTM: http://www.handy-games.com
Join us on Facebook: http://www.fb.com/handygames
Follow us on Instagram: http://instagram.com/handygames
Check news on Twitter: http://www.twitter.com/handy_games
Stay tuned on Google+: http://goo.gl/qkjngm
Subscribe to our YouTube channel: http://goo.gl/2Kq6yY
SPONSORED

Screenshots
Info
Publisher
www.handy-games.com GmbH
Works with
Windows Phone 8.1
Windows Phone 8
App requires
phone identity
owner identity
music library
photos library
media playback
data services
phone dialer
movement and directional sensor
web browser component
HD720P (720×1280)
WVGA (480×800)
WXGA (768×1280)
Supported languages (14)
DeutschEnglishEnglish (United States)españolfrançaisitaliano日本語한국어NederlandsPortuguêsрусскийTürkçe中文(简体)中文(繁體)
SPONSORED