Description: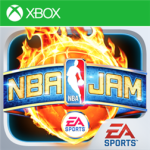 BOOMSHAKALAKA!!!! Jam with your favorite stars from all 30 NBA teams in over-the-top, high-flying, 2-on-2 arcade basketball just like you remember it – and like you've never seen before!
PLAY NOW! PLAY CLASSIC! PLAY HEAD-TO-HEAD AGAINST A FRIEND!
3 modes of play let you ball the way you want:
• Play Now – Select a team and jump right into the ballgame.
• Classic Campaign – Defeat all other teams to win the championship and unlock legends, hidden players, and outrageous cheats.
• Local Multiplayer – Go big head 2 big head against a friend via local WiFi.
YOU'RE ON FIRE – ON WINDOWS PHONE!
If you're from the Old School, you'll feel the '90s nostalgia while you play the hottest arcade sports game on the Windows Marketplace. Featuring the voice of Tim Kitzrow (the original NBA JAM play-by-play announcer), you'll hear all the classic catchphrases plus a few new ones.
XBOX LIVE® ENABLED
Unlock XBOX LIVE® Achievements and earn outrageous cheats and legendary NBA players! Make that Big Head even bigger and size up wannabe ballers on the XBOX LIVE® Leaderboards. This JAM is all about "boomshakalaka"¬– and beyond!
SPONSORED

Go to the hole. Go strong. Go for the monster jam. KABOOM!
** NBA JAM is a larger-than-life game (300MB+), so we strongly recommend connecting to WiFi before downloading. Trust us, this Jam is worth the wait. **
Exclusively for Nokia Lumia
Screeshots:
Info:
Download size
211 MB
Content rating
Version
1.1.0.0
Works with
Windows Phone 8
Windows Phone 7.5
App requires
Xbox
photo, music, and video libraries
data services
movement and directional sensor
HD720P (720×1280)
WVGA (480×800)
WXGA (768×1280)
Supported languages (15)
Deutsch
English
English (United States)
español
Españo
lfrançais
italiano
日本語한국어
polski
português (Brasil)
português (Portugal)
русский
中文(简体)
中文(繁體)
SPONSORED