Family Guy : The Quest for Stuff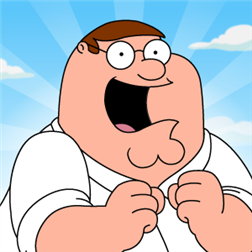 Description
After another epic battle with the giant chicken, Peter Griffin has accidentally destroyed Quahog! Play for FREE and rally your favorite Family Guy characters (even Meg) to save the city in a hilarious new adventure from the writers of Family Guy. Or don't, and regret it forever!
Game Features:
• It's Free! Freakin' free? Freakin' sweet!
• Create a living Quahog that fits enjoyably in your pants
• Unlock hilarious outfits for your characters like Mermaid Peter, Bikini-Clad Quagmire, and Rambo Lois
• Send your characters on ridiculous quests
• Keep Quahog safe from pirates, evil chickens, and other invasions
• Peterfy your town with decorations such as The Petercopter, The Peterdactyl, and The Hindenpeter
• Unlock hundreds of brand new and classic animations
• Play the game in English, French, Spanish, Portuguese, Russian, German, Italian. Choose language within Settings of the game. Default language is the device language.
PS: Don't forget to watch new episodes of Family Guy on Sundays – only on FOX!
Check out all the latest news & updates for Family Guy: The Quest for Stuff:
• Like us on Facebook: www.facebook.com/playfamilyguy
• Follow us on Twitter: https://twitter.com/playfamilyguy
• Follow Peter on Instagram: www.instagram.com/peterpumpkineater69
• Check out awesome Family Guy clips, episodes, pictures, and more: www.fox.com/family-guy
***
UPDATE:
***
• Fixed numerous game play issues where players were not able to complete a quest
• Fixed playback issue when intro video is played
• Made the game accessible to low-memory devices
• Performance and memory optimizations
• Fixed error related to unlocking "Tom Tucker"
• Fixed error related to unlocking "Blimp Site"
• Fixed error condition occuring when changing the language
Note: the game will complete in District 8
SPONSORED

***
PREVIOUS UPDATE:
***
• Fixed issues with slow game start, or where the game is perceived to be stuck while loading.
• Fixed issue with music not playing.
• Fixed numerous other game play issues.
• Tip: Please make sure that you are on a fast Internet connection (preferably WiFi) during the first time you play the game. At first run, the game has to download a lot of other assets and needs a speedy connection.
Thanks for playing Family Guy – The Quest for Stuff!
App Screenshots
Info
Version
2015.206.2218.3507
App requires
internet connection
HD720P (720×1280)
WVGA (480×800)
WXGA (768×1280)
SPONSORED