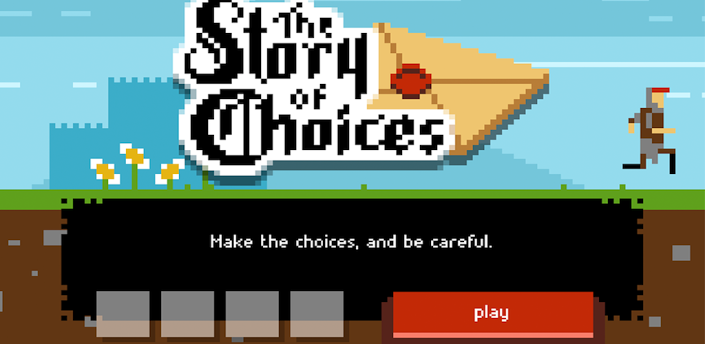 SPONSORED

Description
The Story of Choices has a very complex story line, with multiple paths and endings, based on small decisions, such as "wake up" or "snooze" a little while longer.Our hero, named Choices, needs to avoid war between two kingdoms as he works as a messenger between the two kings. Make him choose wisely, and you could even get the princess to marry him.
– Multiple Endings
– Find out all possible outcomes
– Endless Replayability
– Envolving Story
– Game created in a 36 hour game jam
App Screenshots
Permissions
THIS APPLICATION HAS ACCESS TO THE FOLLOWING:
NETWORK COMMUNICATION

FULL NETWORK ACCESS

Allows the app to create network sockets and use custom network protocols. The browser and other applications provide means to send data to the internet, so this permission is not required to send data to the internet.
VERSION:1.0
SIZE:10M
SPONSORED