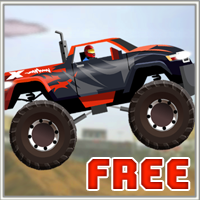 Description
Ever dreamed of crushing cars in a bad boy monster truck? Now you can in Top Truck! Send the crowd to fever pitch as you crush cars, destroy terrain & grab bonus points! Search for hidden routes within the levels to finish in style!
Support the developers by purchasing the pro version!
SPONSORED

—————
FEATURES
—————
o Race through the ARENA stage!
o Different trucks available to unlock in-game!
o Crazy, kooky and kickass levels!
o Massive levels means there is room for loads of different hidden paths. Can you find them all?
o Check out our very own CROWDOMETER to measure just how HYPED or booored the crowd is. Keep CRUSHING CARS and HOUSES to keep them wowed!
o Full ACCELEROMETER and SLIDER control.
Screenshots
Info
Download size
15 MB
Works with
Windows Phone 8
Windows Phone 7.5
App requires
phone identity
owner identity
photo, music, and video libraries
data services
movement and directional sensor
HD720P (720×1280)
WVGA (480×800)
WXGA (768×1280)
SPONSORED