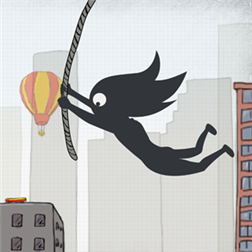 A very easy but addictive game 'AE City Jump' is free at your phone now! Come on and go experience the travelling!
Any feedback please email us, because we can't reply on comments. Thanks very much for all your support in our games!
AE City Jump is an adventure game with very easy playing method happening across the city. Various bonuses levels , bright graphics, distinctive music and smooth gameplay make it addictive and challenging fun for everyone!
The only thing you need to do is tapping on the screen to release the rope at a proper time and let the man jump on the top of the next building .Take care of the different wind-force and gravities, both of them will affect your landing. Landing on different areas on the building also have different scores and bonuses.
Game includes:
(1) Endless game mode
(2) Lovely and vivid city graphics
(3) Dramatic and distinctive background music
(4) Landing with challenging bonuses
SPONSORED

If you like Spider man, NinJump, Temple run, Rope'n'Fly , Mega jump, Line runner, Jump and fly, Doodle Jump, Pop Star, Zuma, Bubble Mania, Bubble bust, Bejeweled, Birzzle, Fruit Ninja, Angry Birds, Cut the Rope, Tiny Wings, Gravity Guy, Fragger, PopStar!, Monster Island ,iStunt, Tetris or other action, puzzle, jump and classic games, you shouldn't miss this game!
Swing and jump to get the higher score! So exciting and thrilling! Get it!
Publisher
AE Mobile
Content rating
EVERYONE
Works with
Windows Phone 8
Windows Phone 7.5
App

requires
phone

identity

owner

identity

location

services

photo

, music, and video libraries

data

services

movement

and directional sensor

camera

HD720P (720×1280)
WVGA (480×800)
WXGA (768×1280)
SPONSORED