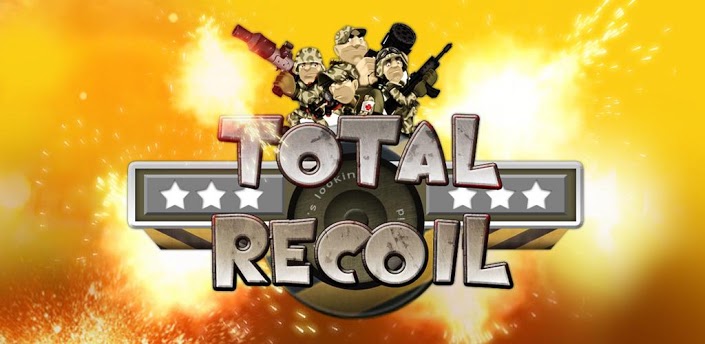 Description
App Of The Day – Mobile Entertainment BizAndroid Rundown –
"Every now and then, a game comes along and socks you dead in the jaw. Total Recoil is one of those games" 8.5/10
⊳ DESCRIPTION ⊲
Look lively soldier! Grab your gear and fall in line for the biggest, baddest, craziest and most explosive war game to hit your screens and assault your senses. Total Recoil takes arcade shooters to the max; it's a warmongers delight, packing a deadly arsenal of kick-ass weapons, devastating explosions, mega bosses, and much, much more into one dynamite package.
⊳ FEATURES ⊲
• Explosively addictive arcade gameplay keeps you coming back for more. If you can see it, you can blow it up
• Upgradable weapons including Assault Rifle, Flamethrower, Chaingun, Cannon, Grenade Launcher and Missile Launcher
• Unlock 'Killstreak' rewards including artillery strikes, sentry guns and dive bombing planes
• Packed with multiple game modes including Operations, Rank Challenges and Endless Wave mode.
SPONSORED

⊳ SUPPORT ⊲
If you face any technical issue with the game and/or device please contact us.
This will enable us to fix and update the game, making it better for all.
Email us for support here at [email protected]
App Screenshots
Videos
What's New
What's in this version:
Thanks for playing Total Recoil and for your reviews and feedback ! We have some bug fixes for you today:
– Fixed music volume control slider.
– Fixed soft-locking Facebook and twitter buttons on debrief and rank up screens.
– Fixed 'Restore Purchases' button.
– Fixed cannon section of boot camp (it was possible to get stuck in some rare circumstances).
– Fixed crash in Heyzap leaderboards when played in certain non-English languages
Keep Blasting !!
Thumbstar
Permissions
THIS APPLICATION HAS ACCESS TO THE FOLLOWING:
NETWORK COMMUNICATION

FULL NETWORK ACCESS

Allows the app to create network sockets and use custom network protocols. The browser and other applications provide means to send data to the internet, so this permission is not required to send data to the internet.
VERSION:2.0.4
SIZE:38M
SPONSORED