Indian Rail Train & IRCTC Info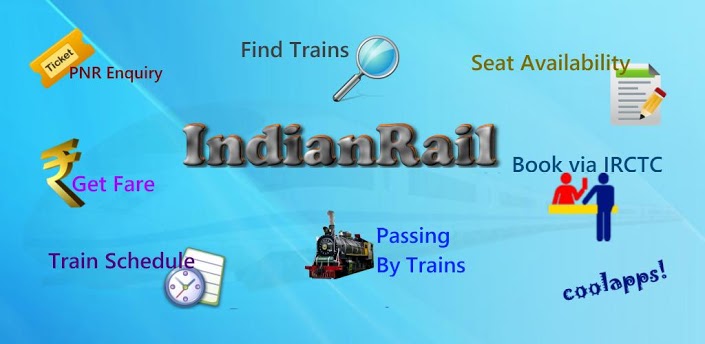 SPONSORED

Description
Indian Rail app has 1) pnr status and tracker 2) irctc mobile ticket booking 3) Find Trains 4) Seat Availability 5) Train Schedule 6) Train Live Status 7) Arrival Departure 8) Offline information for Train Routes and PNR 9) Easy options to save information and share it with your friends via SMS, Email, Whatsapp etc.Features
========
1) Train Schedule with Save Option
2) Pnr enquiry, pnr tracking, share pnr information via SMS, Email, Whatsapp etc.
3) Seat Availability with SMS option. Supports Quick Availability if you know the Train Number.
4) Find all the trains for any day between two railway stations. Also supports Via Station option that can help you get indirect trains between two stations.
4) Train Fare
5) Train Live Status (Expected Arrival / Departure)
6) Passingby Trains (Trains arriving and departing at a railway station in the next few hours)
7) Book Tickets via IRCTC mobile site with an option to auto login
8) Easy Share Option (SMS, Email etc) for Train Schedule, PNR and Train Live Status
9) Save Information like PNR, Train Schedule
10) Download Cool FreeApps using Google Play Store
11) Get information about special trains and cancelled trains
12) Store User Preferences about Travel Class, Fare Concession and Age of the PassengerHighlights
==========
– Indian Rail App provides Ease of Use, Navigation across pages and Rich User Interface- Track Waitlisted PNR's for status changes
-Can search all the pages by both Train Number or Name (partial or complete)
-Find Indirect Trains between stations by specifying Via Station
-Convenient way to save and share information.
-Autocomplete options available for all the indian railway stations
-Provides easy access to the irctc mobile site for ticket booking with an option to auto login
-Supports both Portrait and Landscape modes
-Supports Action Bar on Older Android versions providing a consistent UI
Tips to Use the App
===================
-Don't need to remember train names or numbers. Search can be done using train number or name(partial or complete) on all the pages.
-Swipe the Home Screen left and right to access more information. Save username and password credentials for your irctc mobile site to enable auto login
-Don't need to remember indian railways station names. Auto complete option available.
-Clicking the App Icon(in the action bar) on any page navigates back to the home page. Especially useful when you are booking tickets via irctc mobile site
-Use back button for tracking waitlisted PNR's
-Table Rows are clickable and can be used to get detailed information
App Screenshots
What's New
What's in this version:
Version 2.4
-> Fix Train Live Status & Passing Trains
Version 2.3
-> Fix Train Live Status. If you still see issues, please
Go to Settings -> Applications -> IndianRail -> ClearData
and retry.
Version 2.2
-> Added 'Days of Run' to Train List. Improved UI.
-> Fixed bugs and crashes.
Version 2.1
-> Awesome new UI. Do provide us with your valuable feedback on how you liked it
-> Auto login to irctc mobile site by saving username and password
Permissions
THIS APPLICATION HAS ACCESS TO THE FOLLOWING:
NETWORK COMMUNICATION

FULL NETWORK ACCESS

Allows the app to create network sockets and use custom network protocols. The browser and other applications provide means to send data to the internet, so this permission is not required to send data to the internet.
NETWORK COMMUNICATION

VIEW NETWORK CONNECTIONS

Allows the app to view information about network connections such as which networks exist and are connected.

VIEW WI-FI CONNECTIONS

Allows the app to view information about Wi-Fi networking, such as whether Wi-Fi is enabled and name of connected Wi-Fi devices.
VERSION:2.4
SIZE:2.0M
SPONSORED