Description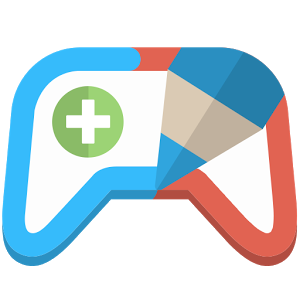 "I wish I could make my own video game." Who among us hasn't thought that at some point? Draw Your Game is a user-friendly application allowing anyone and everyone to create their own video game in a few quick steps:
▶ Draw yourgame's world on a piece of paper, using four different colors (black, blue, green and red).
▶ Use the 'Draw Your Game' app to take a picture of your drawing.
▶ Wait 10 seconds, while Draw Your Game transforms the drawing into a game.
▶ Play yourgame, with a character that you can control.
▶ Share your creation with other Draw Your Game users.
SPONSORED

Four different colors to create the world of your choosing:
▶ Black for stationary floors/ground;
▶ Blue for movable objects that the character can push around;
▶ Green for elements that the character will bounce off of;
▶ Red for objects that will destroy the character or the blue objects.
The Draw Your Game app allows you to create an infinite number of worlds, either on the same sheet of paper or by adding new sheets, one after the other, to create a real story line.
There are two available modes:
▶ "Create" mode, to create your own worlds;
▶ "Play" mode, to play in the worlds created by the community, either in "campaign" mode (worlds selected by our team), or in "catalogue" mode, where you can use search criteria to choose a world yourself.
There are several ways to play the different worlds, at the creator's choice:
▶ "Escape": the character must find a way off the paper to escape and win the game;
▶ "Destruction": the character must push blue objects into red ones to destroy them.
Our teams approve each new world before releasing it to the community, and a rating system is used to rank the top worlds against one another.
[Authorizations]
Draw Your Game requires an Internet connection in order to:
▶ Access games created by other players;
▶ Share your creations.
[Limitations]
▶ Draw Your Game only runs on smartphones and tablets with a camera that can be used to scan your drawings.
[ Drawing recommendations ]
▶ Use fairly wide felt-tip pens.
▶ Choose pure colors.
▶ Take pictures under good lighting.
Screenshots
What's New
Permission
Version 2.3.18 can access:
find accounts on the device
find accounts on the device
modify or delete the contents of your USB storage
read the contents of your USB storage
modify or delete the contents of your USB storage
read the contents of your USB storage
receive data from Internet
Google Play license check
full network access
view network connections
control vibration
prevent device from sleeping
Size: 26 MB
Version: 2.3.18
SPONSORED