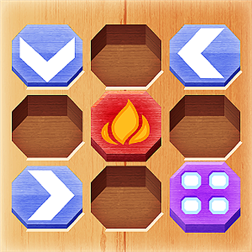 Description
"I guarantee you will love this game." — Kotaku.com
SPONSORED

"So smart and so well-made, why wasn't it created a billion years ago?" — JayIsGames.com
"A new type of puzzle game — one that is refreshingly zen." — CNET.com
"The second I started playing I was enchanted" — CalmDownTom.com
"Puzzle Retreat is for everyone." — IndieGameMagazine.com
Escape to the Puzzle Retreat and immerse yourself in this unique block-sliding puzzle game from the creators of the smash-hit Train Conductor series.
Shut off the outside world. Relax, unwind and focus with a new type of puzzle that is both simple to learn and compellingly deep. Puzzle Retreat is a fresh challenge that will have you losing track of time and forgetting about the outside world.
The rules are simple:
• Slide blocks to fill all the holes in the grid
• Use all the blocks
The challenge comes from working out the correct order to slide the blocks and really ramps up with the addition of special blocks including Fire Blocks, Stop Blocks and Arrow Blocks, which alter the direction of sliding blocks.
• No time limits, no stress, just you and the puzzle
• Stuck on a puzzle – just move to the next and come back later
• 60 puzzles to solve for free
• Additional puzzles can be purchased inside the app.
• Connect with other puzzle lovers – discuss puzzles and techniques directly in-game
• Beautifully designed for tablet and smartphone
————-
For feedback or support enquiries email
[email protected]
Follow us on Twitter for updates
@PuzzleRetreat
Like us on Facebook for updates, hints and to discuss the game with fellow fans
http://facebook.com/puzzleretreat
For more information, visit our website
http://puzzleretreat.com/
Screenshots
Info
Publisher
The Voxel Agents
App requires
phone identity
data services
movement and directional sensor
HD720P (720×1280)
WVGA (480×800)
WXGA (768×1280)
Supported languages (13)
العربيةDeutschEnglishEnglish (United States)españolfrançaisitaliano日本語한국어svenskaไทยTürkçe中文(简体)
SPONSORED