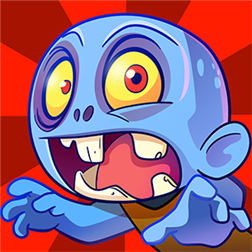 Description
What would be the best way to escape if a zombie apocalypse happened? Flying with jetpacks, of course! After all, zombies cannot fly!
It seemed the perfect escape until a smart zombie created a jetpack made ​​of mint candy and soda. Now the zombies can fly and are chasing the humans!
> ANNIHILATE infected humans and demented zombies
> SLICE dozens of enemies with the mighty sword
> EXPLODE missiles before they hit the humans
> UNLEASH THE POWER of the mysterious Pandora's Boxes
> DETONATE dynamites and cannonballs against the zombie hordes
> STRENGTHEN your powers on the store
> TEST YOUR SKILLS on the dreadful hard mode
> COMPLETE more than 25 challenging missions
SPONSORED

What are you waiting for? Let's SLAY some zombies!
Screenshots
Info
Works with
Windows Phone 8.1
Windows Phone 8
App requires
phone identity
music library
media playback
data services
movement and directional sensor
HD720P (720×1280)
WVGA (480×800)
WXGA (768×1280)
SPONSORED