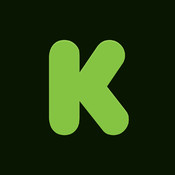 Description
SPONSORED

Kickstarter is a new way to fund and follow creative projects. Everything from films, games, and music to art, design, and technology. We love projects! Take it for a spin…
* Discover new projects
* Watch project videos
* Get updates from projects and your friends Are you a project creator?
* Use the app to stay connected with your backers
* track your project's progress
* post updates from wherever you are.
Screenshots
What's New
Fixed a few crashes and bugs introduced in the last update.
Version: 1.4.1
Size: 8.9 MB
Language: English
Seller: Kickstarter, Inc.
© Copyright 2013 Kickstarter, Inc
Rated 12+ for the following:
Infrequent/Mild Sexual Content and Nudity
Infrequent/Mild Profanity or Crude Humor
Infrequent/Mild Mature/Suggestive Themes
Infrequent/Mild Alcohol, Tobacco, or Drug Use or References
Infrequent/Mild Realistic Violence
Infrequent/Mild Cartoon or Fantasy Violence
Infrequent/Mild Horror/Fear Themes
Compatibility: Requires iOS 6.0 or later. Compatible with iPhone, iPad, and iPod touch. This app is optimized for iPhone 5.
SPONSORED
More Free Games & Apps Downloads: