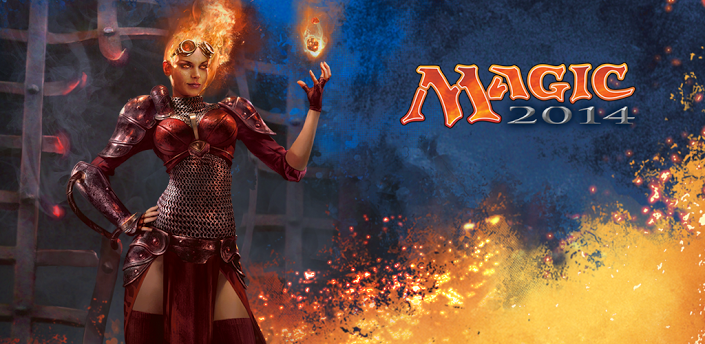 SPONSORED

Description
Ignite your spark with Magic 2014 — Duels of the Planeswalkers!Magic: The Gathering is the world's premier trading card game. Become a Planeswalker and travel the planes of existence unleashing a torrent of spells and creatures.Game includes:
• 3 decks, each with 5 unlockable cards
• Single-player campaign across the plane of Shandalar
• One Planeswalker duel
• Sealed Play mode; explore a deckbuilding experience
Additional content is also available for purchase. Premium content package will get you:
• 7 additional decks to unlock
• 250+ additional cards unlockable through play
• 4 deadly opponents, including the Planeswalker Chandra Nalaar
• 18 additional Campaign levels across the planes of Ravnica, Alara, Innistrad and Zendikar, plus 11 revenge matches
• 10 puzzling challenges
• Ad Hoc one-on-one Multiplayer play
• Two-Headed Giant and Custom Game modes
• Access to deck key and foil conversion in-app purchases
• Additional downloadable content as it becomes available
Game content available in English, French, Italian, German, Spanish, Russian, Japanese, Korean, and Brazilian Portuguese.
App Screenshots
Permissions
THIS APPLICATION HAS ACCESS TO THE FOLLOWING:
NETWORK COMMUNICATION

FULL NETWORK ACCESS

Allows the app to create network sockets and use custom network protocols. The browser and other applications provide means to send data to the internet, so this permission is not required to send data to the internet.

STORAGE

MODIFY OR DELETE THE CONTENTS OF YOUR USB STORAGE

Allows the app to write to the USB storage.

BLUETOOTH

PAIR WITH BLUETOOTH DEVICES

Allows the app to view the configuration of Bluetooth on the device, and to make and accept connections with paired devices.

ACCESS BLUETOOTH SETTINGS

Allows the app to configure the local Bluetooth device, and to discover and pair with remote devices.
NETWORK COMMUNICATION

GOOGLE PLAY LICENSE CHECK

Google Play license check

VIEW NETWORK CONNECTIONS

Allows the app to view information about network connections such as which networks exist and are connected.

VIEW WI-FI CONNECTIONS

Allows the app to view information about Wi-Fi networking, such as whether Wi-Fi is enabled and name of connected Wi-Fi devices.

SYSTEM TOOLS

TEST ACCESS TO PROTECTED STORAGE

Allows the app to test a permission for USB storage that will be available on future devices.

AFFECTS BATTERY

PREVENT DEVICE FROM SLEEPING

Allows the app to prevent the device from going to sleep.
Size:5M
SPONSORED