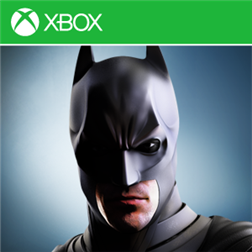 SPONSORED

Description
The epic conclusion to filmmaker Christopher Nolan's Batman trilogy arrives in the exclusive video game inspired by the movie.
THE EXCLUSIVE GAME INSPIRED BY THE DARK KNIGHT RISES
After being gone for eight years, Bruce Wayne gets back into action as Batman. Waiting for him are the mysterious Selina Kyle, and Bane, a lethal adversary on a crusade to tear apart Batman's legacy piece by piece.
Meet all of Batman's allies and regain your strength to protect Gotham City from Bane.
Become completely immersed in the story thanks to likenesses of all the movie's main characters like Catwoman, Lucius Fox and Commissioner Gordon.
AN EPIC GAMING EXPERIENCE
Dozens of missions plus random events will make you feel all the thrill of being a superhero. Deal with hostage situations, bomb squads, jailbreaks and car chases to prove that you're the true protector of Gotham.
A thrilling fighting system that puts you right in the heart of the action thanks to many different moves and cinematic effects.
Collect items hidden within the city to unlock upgrades and new fighting skills for Batman.
PLAY AS THE DARK KNIGHT
Access Batman's complete arsenal and learn how to take full advantage of each tool. Use the Grapnel to cross the city or to defeat foes, throw the Batarang to knock out your enemies or to hit a distant button; the possibilities are infinite.
When kicks and gadgets are of no use, The Dark Knight relies on his vehicles to get the job done. Drive the Bat-Pod for special vigilante missions or pilot The Bat for fast travel across the city.
EXPERIENCE GOTHAM AS YOU NEVER HAVE BEFORE
Explore the entire city of Gotham and its different districts spread across a huge map and enjoy stunning graphics for total immersion in the dark universe of Batman.
Screenshots
Info
Download size
773 MB
App requires
Xbox
phone identity
media playback
data services
push notification service
HD720P (720×1280)
WVGA (480×800)
WXGA (768×1280)
$6.99(full version)
Supported languages (11)
DeutschEnglishEnglish (United States)Español (España, alfabetización internacional)françaisitaliano日本語한국어português (Brasil)русский中文(简体)
SPONSORED