PhotoDirector Photo Editor App
Description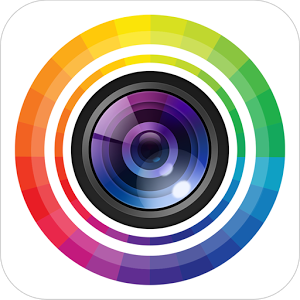 Change your smartphone pics and make them look like they were shot on a Canon or Nikon. Photoshop your travel pictures, enhance landscape images, and create a professional quality artwork from an ordinary photograph. This holiday season use our photo frames, filters and effects to add a touch of festive magic to your pics.
Our quick photo editing app combines a feature-rich photo editor with a richly creative collage maker that lets you adjust RGB with a visual histogram. Change white balance or saturation, or apply photo effects and adjustments to an entire image or specific regions. Use photo filters with just one touch to apply lens flare effects or create light leaked photos. PhotoDirector App gives you an array of tools to turn your everyday pics into spectacular National Geographic style artwork.
SPONSORED

All the best features you need to enhance and adjust images in one app:
Powerful yet Easy Photo Editing Tools
– Adjust HSL sliders and RGB color channels in your photo to easily colorize your shots, or correct tough white balance problems.
– Easily adjust Tone with Brightness, Darkness, Exposure and Contrast sliders
– Quick White Balance correction for improved color accuracy
– Tweak Saturation for the most vivid image possible
– Apply photo effects both globally or to specific regions of your pictures
Collage maker lets you tell even more stories with your photos
– Edit, adjust and then combine your favorite photos to create fantastic collages!
Intelligently remove objects from photographs
– Remove a photobomber, or an unwanted object, from your pics with quick Content-Aware Removal editing tools
Easy to Add HDR, photo effects & layer editing
– Add and adjust HDR effects to create dramatic travel pics, and landscape images
– Instantly choose preset photo effects including Lomo, Artistic, HDR and Vignette, to give your photo a professional artwork style finish
– Use the Blender tool to add an extra image or effect layer to your photo. The closest thing to desktop layer editing on your mobile!
– Add mood and style to your photograph with one-click overlays. Make light leaked photos, add grunge effects, lens flare and more.
– Linear and radial blur tools let you create a range of imaginative photo effects from bokeh to tilt-shift.
Quick and easy photo sharing
– Shoot a photo directly into the app, or enhance and adjust photos from your gallery
– Apply any adjustment, then set you pics as your mobile wallpaper without leaving the app
– Get your images ready to upload to Instagram with InstaFill, plus a host of creative photo filters
– Use PhotoDirector's powerful, quick editing and adjustment tools, then start photo sharing with your friends, family and followers on Facebook, Twitter, Flickr, Instagram and more
Unleash your inner professional photo editor. In-app Purchase Available for Upgrade to Premium Version
– Enables unlimited Object Removal
– Save images in Ultra HD 4K resolution (device dependent)
– Remove in-app ads
Minimum System Requirements
– Android 4.1 (Jelly Bean) and above
– 1GHz processor
– 768MB RAM
– 480×640 screen resolution
– ARM CPU, Tegra 3 and above
– Supports JPEG / PNG images only
Screenshots
What's New
New Version Update 3.4.3
– Bug fixes and performance improvements
New Version Update 3.4.2
– Bug fixes and performance improvements
New Version Update 3.4.1
– Bug fixes and performance improvements
Permission
This app has access to:
find accounts on the device
find accounts on the device
find accounts on the device
find accounts on the device
approximate location (network-based)
precise location (GPS and network-based)
modify or delete the contents of your USB storage
read the contents of your USB storage
modify or delete the contents of your USB storage
read the contents of your USB storage
receive data from Internet
control vibration
prevent device from sleeping
view network connections
set wallpaper
modify system settings
full network access
Size: 30 MB
Version: 3.4.2
SPONSORED