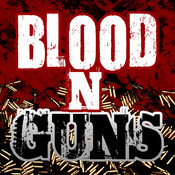 Description
Blood'NGuns is a hardcore dual thumb zombie shooter with a large arsenal of weaponry and power ups to chose from. Deal with up to 80 zombies attacking you on screen at the same time, dynamically generated arenas and 6 survival game play modes will keep you challenged indefinitely. Did we mention lots and lots of blood?
Upcoming
We are currently developing harder game modes and a bunch of other stuff!
Features
Version 1.06
– Gun lock: lets you keep your favorite gun
– Facebook/Twitter Highscore feeds
– Added Game Center
– Fixed Sound Issue
– Dynamically Generated Backgrounds with thousands of variations.
– Sandbox Game Play with multiple nonlinear modes.
– Highly optimized for high frame rate game play.
– Fight up to 80 Enemy Characters on screen using standard iPhone and iPod touch.
– Pile enemy corpses in the thousands and never see anything fade out. Make a mess!
– Blast enemies into multiple bits when using powerful weapons.
– Dynamic Explosion effect creates unique blast every time.
– Realistic sound effects and weapons.
– Collision detection between Characters. Enemies are effected by bullet impact.
SPONSORED

– 12 Weapons, G36, M249, Plasma Rifle, Neutron Blaster, Pulse Rifle, Shotgun, Dynamite….
– 4 Weapon Power-ups, Rate of Fire, Double Damage, Fast Reload, Large Magazine
– 4 Player Power-ups, Shields, Armor, Run Speed, Health
– 4 Global Power ups, 2000 points, 4000 points, 8000 points, Death Wave.
– 6 nonlinear game modes, Beginner, Survival, Rush, Shotgun N TNT, HellFire, Death Wave
– Dynamic Game difficulty increases as you progress.
– Positional 3D Audio [best experienced with headphones]
– Automatic save and resume game.
– Free In Game Downloadable Content, Backgrounds and Game mode packs.
– In game Music control. Listen to your favorite tracks while playing.
– Customizable Player, ie. change shirt color.
Screenshots
Videos
Version:1.06
Size:23M
SPONSORED