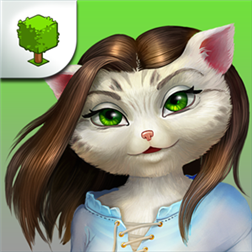 Description
"Cat Story" is a fascinating adventure under the hot tropical sun in the company of kind, fluffy animals. A shipwreck brings the characters to a lost island in the ocean, where they must start a new life, one that is interesting, comfortable, and eventful.
SPONSORED

One day you will wake up on soft sand of a shore of an unknown sea, under the shade of a tree that you've never seen before. You will feel that everything has changed, and so did you. Surprisingly, you will see that you have paws instead of hands, a furry tail in the back and on your face (rather on your snout), a pair of whiskers! So begins "Cat Story"!
You will need to:
* find out where you are
* get accustomed to your new home
* find your lost friends
* meet the aborigines
* unveil all the local secrets (there are a lot of them!)
* receive sacral knowledge
* get back at your enemies
* and come back home… If you are still going to want to.
Only in this game you will feel yourself be:
* A pioneer of unknown lands, a hero of a Jules Verne novel
* An owner of a dozen coolest cats in the world
* A wizard, that can turn Evil Spirits to good
* A skilled leader of a team that is building a beautiful and cozy village
* A great detective on an exciting investigation, on which lives depend (and not only those of cats!)
* A farmer, who can feed all of his/her friends with what is grown in the garden
* A diplomat, who can iron out any type of a situation with any type of species (did you really think that the island is inhabitable and there is no one but cats on it?)
* An engineering genius, who develops amazing…. But let's not get ahead of ourselves, you will soon find out for yourself.
* Vivid colors; characters that come alive with just one touch and who will be your true close friends; an exciting plot; and an incredible compilation of several game genres. You haven't played anything like this!
Do you want to try?
*The adventure continues with 20 more main and secondary quests.
*Two new territories: an erupting Volcano that will need to be tamed and a withering Oasis, which can be revived with your help.
*Two new characters: a strange but charming Alejandro with his talking cactus and the kind Storyteller. Yes, we finally get a chance to meet the Storyteller.
*Three new buildings: a Paper Machine to make paper, Fire Spatter to produce fire and a Pepper Farm, where you can grow hot chili peppers.
*You can meet new legendary creatures! Starting with the second part of April the game will have what we call the Epoch of Dragons. Don't miss out on your chance to own these amazing creatures! You can get one through special offers.
*You can buy a second production building for the price of the first, without spending any crystals. Hurry, this special offer won't last long!
*All new players can go through a tutorial to understand the game better and enjoy all of its adventures to the fullest.
*We lowered the price of speeding up all production, upgrades and building processes three times! Now you can explore the island and finish all of the quests faster.
*Additionally, as was requested by our players, we lowered the price of all of the resources!
*More coins are now produced by houses.
*Houses where you can start an adventure will now randomly give you pieces of the map, which are needed to open new territories.
*You now have a chance to get pieces of glass and pieces of the map from chests throughout the island.
*We've corrected several problems with old quests and you will no longer have any problems completing them.
*We've corrected the problem with the missing reward for the 40th and upper levels.
Screenshots
Info
Publisher
Game Garden, LLC
Works with
Windows Phone 8.1
Windows Phone 8
App requires
music library
media playback
data services
HD720P (720×1280)
WVGA (480×800)
WXGA (768×1280)
Supported languages (2)
English (United States)русский
SPONSORED