Description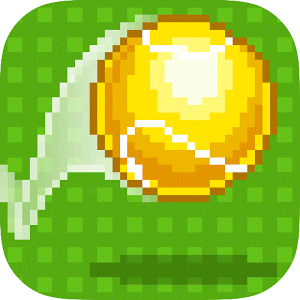 When the ball approaches the zone, just tap – it's as simple as that! Challenge your friends or compete with the world's best One Tap Tennis stars as you smash your way through a whole world's worth of tournaments.Game Features:
TAP TO RETURN A SHOT
Tap at the right time and you will send balls flying back across the court. Do it when the ball reaches the red zone for a better shot.
SUPER SHORT MATCHES
There's no need for hours on the court, jump into a super short match or power your way through Tournaments from Tokyo, to Berlin, from New York to London, and beyond!
PLAY THE PLANET
Want to be the World's Number 1? Tap on World Ranking Matches to go straight into the global charts!
HILARIOUS!
Unlock crazy customised characters including a Bear, a Spaceman, a Bee, and a Zombie to name but a few!
CHALLENGE MODE
Show off your tennis ninja skills by taking on a frenzied bombardment of balls from the crazy automatic ball launcher and unlock more characters as you play.
SUPER STYLISH
One Tap Tennis looks timeless with its stylized 8bit graphics look!
Important Consumer Information. This app: Requires acceptance of EA's Privacy & Cookie Policy, TOS and EULA. Includes in-game advertising. Collects data through third party ad serving and analytics technology (see Privacy & Cookie Policy for details). Contains direct links to the Internet and social networking sites intended for an audience over 13. Allows players to communicate via Facebook notifications. To disable see the settings in-game. The app uses Google Play Games. Log out of Google Play Games before installation if you don't want to share your game play with friends.
SPONSORED

Screenshots
Permission
Version 1.00.00 can access:
find accounts on the device
find accounts on the device
read phone status and identity
modify or delete the contents of your USB storage
read the contents of your USB storage
modify or delete the contents of your USB storage
read the contents of your USB storage
read phone status and identity
receive data from Internet
full network access
view network connections
control vibration
Size: 2 MB
Version: 1.00.00
SPONSORED