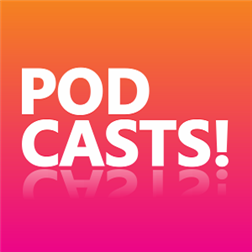 PODCASTS! brings you the ability to browse, search, stream, subscribe, download, and listen to thousands of podcasts from around the world right on your Windows Phone!
SPONSORED

Stream both audio and video podcasts directly on your phone anytime, anywhere over a 3G or Wi-Fi connection with no previous connection to your PC required! Best of all – once you've got the PODCASTS! application on your phone, listening to these podcasts is completely free!
NEW FOR 4.5:
– Bug fixes and stability updates
– Ability to turn off subscription notifications
NEW FOR 4.0:
– subscriptions!
– pin to start!
NEW FOR 3.0 – MANGO FEATURES!:
– background audio playback!
– background episode downloads!
– no more having to stay on the screen!
Standard features include:
– recent plays!
– stream episodes immediately!
– download episodes to your phone!
– integration with the Music + Video hub!
– bookmarks!
– browse for podcasts!
– search for podcasts!
– add any podcast not in our catalog!
– intuitive playback controls!
– no ads on the full PRO version!
– and much more!
Publisher
Melting Bot Software
Works with
Windows Phone 8
Windows Phone 7.5
App

requires
owner

identity

photo

, music, and video libraries

data

services
HD720P (720×1280)
WVGA (480×800)
WXGA (768×1280)
SPONSORED