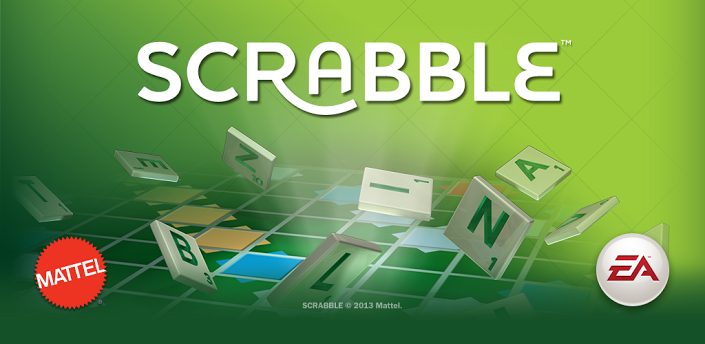 Description
Connect with friends and play with words with the SCRABBLE™ BRAND Crossword Game. Get a match going with just about anyone. You can even play in French, Italian, German, Spanish, or Brazilian Portuguese.WHO WILL YOU PLAY?
• Challenge friends, family, or a random opponent via Facebook or Origin
• Get up to 50 games going at onceLOSS FOR WORDS?
We've included the Collins Official SCRABBLE Wordlist, so you can check your words right in the game! Plus, use the exclusive Teacher feature to become a SCRABBLE master and see what your best word could have been after every turn.
SHOW OFF YOUR SKILLS
Talk a good game with the chat feature, complete with emoticons, time stamps, auto-correct, spell check, and more! Share your wins and highest scores on Facebook.
SPONSORED

PLAY WITH EASE
See how many tiles of each letter are in SCRABBLE with the handy Tile Distribution feature. Customize the look of your board and tiles to fit your personality! Take a look at your opponent's last score – right on the board. Toggle between active matches with the swipe of a finger, and shuffle the tiles on your rack with a shake of your device.
LOOK SHARP!
SCRABBLE is optimized for your phone AND your tablet! View every detail on the board with quality graphics made to maximize the display. You can even customize your desktop with a FREE SCRABBLE-themed animated 3D desktop wallpaper!
Ready for the first and last word in word games? Don't accept imitations. Just say, "LET'S PLAY SCRABBLE!"
NOTE:
A wireless or network connection is needed.
App Screenshots
Permissions
THIS APPLICATION HAS ACCESS TO THE FOLLOWING:
NETWORK COMMUNICATION

FULL NETWORK ACCESS

Allows the app to create network sockets and use custom network protocols. The browser and other applications provide means to send data to the internet, so this permission is not required to send data to the internet.

PHONE CALLS

READ PHONE STATUS AND IDENTITY

Allows the app to access the phone features of the device. This permission allows the app to determine the phone number and device IDs, whether a call is active, and the remote number connected by a call.

STORAGE

MODIFY OR DELETE THE CONTENTS OF YOUR USB STORAGE

Allows the app to write to the USB storage.

YOUR SOCIAL INFORMATION

READ YOUR CONTACTS

Allows the app to read data about your contacts stored on your device, including the frequency with which you've called, emailed, or communicated in other ways with specific individuals. This permission allows apps to save your contact data, and malicious apps may share contact data without your knowledge.
YOUR ACCOUNTS

FIND ACCOUNTS ON THE DEVICE

Allows the app to get the list of accounts known by the device. This may include any accounts created by applications you have installed.

NETWORK COMMUNICATION

VIEW WI-FI CONNECTIONS

Allows the app to view information about Wi-Fi networking, such as whether Wi-Fi is enabled and name of connected Wi-Fi devices.

VIEW NETWORK CONNECTIONS

Allows the app to view information about network connections such as which networks exist and are connected.

CHANGE NETWORK CONNECTIVITY

Allows the app to change the state of network connectivity.

RECEIVE DATA FROM INTERNET

Allows apps to accept cloud to device messages sent by the app's service. Using this service will incur data usage. Malicious apps could cause excess data usage.

SYSTEM TOOLS

TEST ACCESS TO PROTECTED STORAGE

Allows the app to test a permission for USB storage that will be available on future devices.

AFFECTS BATTERY

PREVENT DEVICE FROM SLEEPING

Allows the app to prevent the device from going to sleep.
VERSION:3.4.1
SIZE:38M
SPONSORED