doubleTwist with Magic Radio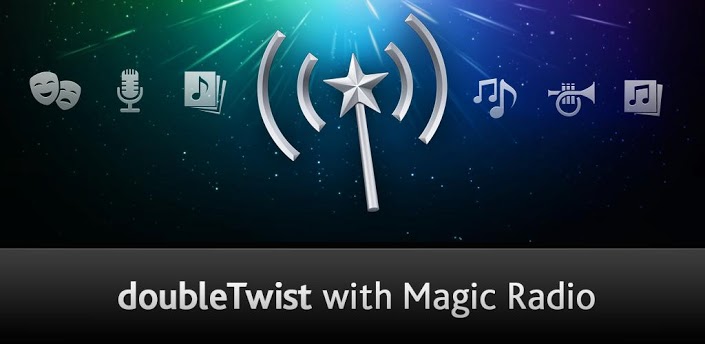 Description
Are you tired of using multiple apps for syncing and listening to music, radio & podcasts? Download doubleTwist Player and get the best all-in-one music, podcast, radio & sync app:♬ Enjoy Magic Radio, the personalized streaming service that seamlessly blends music from your music library with new music uniquely tailored to your musical taste from a catalog of over 13 million songs.
♬ Sync music (including iTunes playlists) to your phone from your laptop over USB or AirSync over WiFi.
♬ Download legal, high-quality album artwork for your music.
♬ Smart Playlists for easy access to your Top Rated and Most Played songs.
♬ Subscribe to podcasts and get new episodes downloaded automatically over 3G or WiFi.
♬ Stream music, videos and photos to the Xbox 360, PS3, Sonos, and AirPlay to Apple TV (black model; AirPort Express not yet supported).
doubleTwist Player is a free download with an optional in-app upgrade to doubleTwist Pro that unlocks AirSync, AirPlay to Apple TV, podcast management, EQ and album art search.Or subscribe to Magic Radio and enjoy all the premium features of doubleTwist Pro for Free (a $9.99 value) plus unlimited, personalized music streaming with NO ADS. All for only $3.99/month.
SPONSORED

doubleTwist is handmade with ❤ in San Francisco.
Need help with doubleTwist? http://doubletwist.com/help/
If you have comments or feedback on our app, or need additional support, please visithttp://doubletwist.com/contact/. Thanks!
The free companion doubleTwist desktop app is not required and is only needed if you want to sync music to your phone or tablet from your Mac (running MacOS X 10.5 or higher) or PC.
Use of this app is subject to the doubleTwist Terms of Use and Privacy Policy:http://doubletwist.com/legal/
For additional information on requested app permissions: http://twist.to/JXw4fE
App Screenshots
Videos
What's New
What's in this version:
New in v2.1.2:
♬ Fixed an issue with UI lag when switching to a new song.
♬ Fixed a download/playback issue that affected certain podcast episodes.
♬ Fixed an issue with some Unicode characters not being displayed correctly.
♬ Misc fixes/improvements.
New in v2.1.1:
♬ Fixed an issue with AirSync not being unlocked for users who purchased doubleTwist Pro after installing the previous update (v2.1.0).
♬ Fixed an issue with podcast skip buttons (10s and 30s) not working correctly.
Permissions
THIS APPLICATION HAS ACCESS TO THE FOLLOWING:
NETWORK COMMUNICATION

FULL NETWORK ACCESS

Allows the app to create network sockets and use custom network protocols. The browser and other applications provide means to send data to the internet, so this permission is not required to send data to the internet.

CONTROL NEAR FIELD COMMUNICATION

Allows the app to communicate with Near Field Communication (NFC) tags, cards, and readers.

PHONE CALLS

READ PHONE STATUS AND IDENTITY

Allows the app to access the phone features of the device. This permission allows the app to determine the phone number and device IDs, whether a call is active, and the remote number connected by a call.

STORAGE

MODIFY OR DELETE THE CONTENTS OF YOUR USB STORAGE

Allows the app to write to the USB storage.

AFFECTS BATTERY

ALLOW WI-FI MULTICAST RECEPTION

Allows the app to receive packets sent to all devices on a Wi-Fi network using multicast addresses, not just your device. It uses more power than the non-multicast mode.

BLUETOOTH

PAIR WITH BLUETOOTH DEVICES

Allows the app to view the configuration of Bluetooth on the device, and to make and accept connections with paired devices.

OTHER APPLICATION UI

DRAW OVER OTHER APPS

Allows the app to draw on top of other applications or parts of the user interface. They may interfere with your use of the interface in any application, or change what you think you are seeing in other applications.

LOCK SCREEN

DISABLE YOUR SCREEN LOCK

Allows the app to disable the keylock and any associated password security. For example, the phone disables the keylock when receiving an incoming phone call, then re-enables the keylock when the call is finished.
YOUR ACCOUNTS

FIND ACCOUNTS ON THE DEVICE

Allows the app to get the list of accounts known by the device. This may include any accounts created by applications you have installed.

DEVELOPMENT TOOLS

READ SENSITIVE LOG DATA

Allows the app to read from the system's various log files. This allows it to discover general information about what you are doing with the device, potentially including personal or private information.

NETWORK COMMUNICATION

VIEW WI-FI CONNECTIONS

Allows the app to view information about Wi-Fi networking, such as whether Wi-Fi is enabled and name of connected Wi-Fi devices.

VIEW NETWORK CONNECTIONS

Allows the app to view information about network connections such as which networks exist and are connected.

RECEIVE DATA FROM INTERNET

Allows apps to accept cloud to device messages sent by the app's service. Using this service will incur data usage. Malicious apps could cause excess data usage.

SYSTEM TOOLS

MODIFY SYSTEM SETTINGS

Allows the app to modify the system's settings data. Malicious apps may corrupt your system's configuration.

TEST ACCESS TO PROTECTED STORAGE

Allows the app to test a permission for USB storage that will be available on future devices.

AFFECTS BATTERY

PREVENT DEVICE FROM SLEEPING

Allows the app to prevent the device from going to sleep.

YOUR APPLICATIONS INFORMATION

RUN AT STARTUP

Allows the app to have itself started as soon as the system has finished booting. This can make it take longer to start the device and allow the app to slow down the overall device by always running.

AUDIO SETTINGS

CHANGE YOUR AUDIO SETTINGS

Allows the app to modify global audio settings such as volume and which speaker is used for output.
VERSION:2.1.2
SIZE:11M
SPONSORED