Description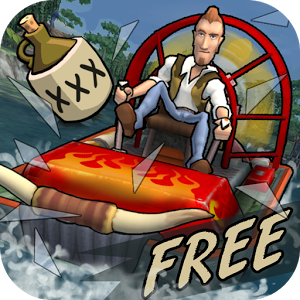 This is the official free to play version of the game Kotaku called "Amazing" and Android Guys called "A high flying, moonshine money making, backwoods bayou bonanza."
Throw your flat-bottomed fanboat into high gear and slip and slide through the muddy waters of the backwoods bayou. Smash and crash through a destructible world filled with rickety swamp shacks, fishin' boats, chicken coops, gators, and more. Pack your cargo hold to the brim with moonshine, tobacky, snake oil and other contraband and then sell 'em to the highest bidder in a rampagin' 10-day race for profit and glory. Just make sure you keep an eye out for Smokey–the more notorious you get, the more cops will come gunnin' for you.
———
FEATURES:
———
AMAZING BOAT PHYSICS
Power slide through twisting rivers with the most realistic boat physics ever seen on mobile.
COMPLETELY DESTRUCTIBLE ENVIRONMENTS
Crash through docks stacked high with barrels. Demolish shacks and outhouses. Punt gators and chickens. If you can see it, you can smash it!
SMUGGLE YOUR WAY TO RICHES!
Buy and sell contraband goods like Moonshine and Tobacky, smuggling them from one colorful locale to the next in a race for maximum profit.
GORGEOUS HD VISUALS
Explore a colorful southern world filled with high-detail boats, animated characters, beautiful bayou, marsh, and mountain environments, all running at a silky smooth framerate on your smartphone or tablet, or Android TV!
SPONSORED

GAMEPAD SUPPORT
In addition to tilt/touch controls, you can play using your Bluetooth/USB gamepad or Android TV remote.
GOOGLE PLAY GAME SERVICES
Make your name in the Leaderboards, backup and sync your game with Cloud Save, and show off your skills with some of the wackiest, most inventive Achievements around!
———————
FOR MORE INFORMATION:
———————
For support or suggestions, please visit:
www.vectorunit.com/support
Be the first to hear about updates, download custom images, and interact with the developers!
Follow us on Google+ at www.vectorunit.com/+
Like us on Facebook at www.facebook.com/VectorUnit
Follow us on Twitter @vectorunit.
Visit our web page at www.vectorunit.com
If you have questions about Permissions in this game, please see our Privacy Policy at:
http://www.vectorunit.com/privacy/
Screenshots
What's New
– Fixed GamePad Issues
Permission
Version 1.5.1 can access:
modify or delete the contents of your USB storage
read the contents of your USB storage
modify or delete the contents of your USB storage
read the contents of your USB storage
full network access
view network connections
 Size: 29MB
Version: 1.5.1
SPONSORED