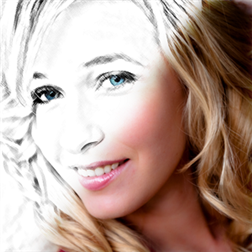 Description
Sketch is a must have application that converts your photos into beautiful pencil style drawings. Choose among 27 different sketch styles to achieve astonishing results!
Get connected and share your creations via Facebook, Twitter, Flickr, Tumblr or Photobucket.
Features:
* Gray or color sketch
* Adjustable intensity, outlines, brightness and contrast
* Fast processing
* Metro design
* Facebook support
* Twitter support
* Flickr support
* Photobucket support
* Flickr support
* Tumblr support
* fullscreen preview
* swipe to reveal
* swipe to change effect
* picture hub integration
New features:
* facebook login fix
SPONSORED

This version is fully functional but ad supported.
We plan to add a lot more features, so please support us by rating the app and giving feedback about what you would like to see!
Please send an email to support@thumbmunkeys if you are having problems rather than leaving negative feedback. We'll aim to get back to you within 24 hours.
Follow us on twitter to stay upto date with the latest developments: https://twitter.com/#!/thumbmunkeys
Screenshots
Info
Publisher
thumbmunkeys
Works with
Windows Phone 8
Windows Phone 7.5
App requires
phone identity
owner identity
video and still capture
photo, music, and video libraries
data services
movement and directional sensor
camera
HD720P (720×1280)
WVGA (480×800)
WXGA (768×1280)
Supported languages (2)
DeutschEnglish (United States)
SPONSORED