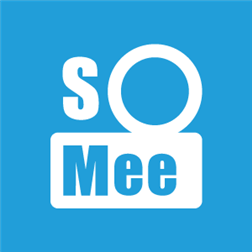 Description
Enhance and Share your Photos!
SoMee is a photo enhancement and sharing application.
Share your photos to facebook, twitter or tumblr and get updates from your friends in realtime!
SoMee has 30 quality effects, 30+ light leaks and 20+ different frame styles that can be combined to create astonishing photos.
SPONSORED

Creating and sharing great photos has never been easier!
Latest features:
* live tile support
* improved picture cropping
* picture rotation and flipping
* higher quality image output
Features:
* 30 filters (more to come, just let us know if there is something filter you would like to see)
* 30+ light leaks
* Blazingly fast filters and effect
* Share to Facebook, Twitter and Tumblr
* Upload to multiple services with one click
* High quality photo output
* Notification when someone likes or comments on your photo in Facebook
* Notification when someone reblogs or likes your photo on Tumblr
* Notification when someone retweets your photo on Twitter
* Combine multiple effects and light leaks to produce truly unique photos
* Realtime adjustment on every filter and light leak
* direct access from either the picture hub or picture viewer
* support – we try to answer all questions within 24 hours
* uservoice support, we love to hear from you
* post comments to facebook
* delete picture (tap and hold)
* show description in details view
Screenshots
Info
Publisher
thumbmunkeys
Works with
Windows Phone 8
Windows Phone 7.5
App requires
phone identity
owner identity
video and still capture
photo, music, and video libraries
data services
push notification service
movement and directional sensor
camera
HD720P (720×1280)
WVGA (480×800)
WXGA (768×1280)
SPONSORED