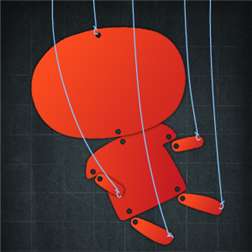 SPONSORED

Description
Are you bored of traditional hangman game?
Download Potino, the funny puppet that plays hangman game!
Touch it, shake it and move it to make fantastic dance movements.
Guess the hidden word with Potino…it'll be a true challenge!
More than 50.000 words are waiting for you, will you be able to guess all of them?
…and if you find a new word, Potino'll tell you the definition!
◆THE MORE YOU GUESS THE MORE YOU WIN◆
-Train yourself in Easy Level and then unlock the Difficult Level
-Potino'll lose a piece of its body for every mistake. Play with the fallen puppet's bones!
-If you want a help, spend star points to use the Blue-Bonus
-Gain the star points and customize your puppet
◆THE MORE YOU GUESS THE MORE YOU LEARN◆
-You have got more than 50.000 words to guess
-For every word Potino will offer you the definition from a famous and detailed dictionary
◆VISIT POTINO ROOM◆
-Use the star points you earned in the game room to buy new dresses for your puppet. Every combination is possibile and will make unique your Potino!
-Look the collection of all the words you guessed and learn the definition of the most difficult words
Guess new words, increase star points and customize your puppet!
Screenshots
Info
Download size
23 MB
App requires
phone identity
media playback
data services
movement and directional sensor
HD720P (720×1280)
WVGA (480×800)
WXGA (768×1280)
SPONSORED