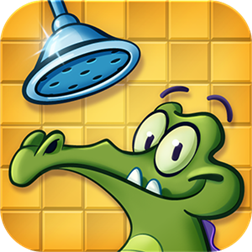 Description:
WHERE'S MY WATER IS THE HIT DISNEY APP EVERYONE IS PLAYING! NOW WITH OVER 400 LEVELS!
Where's My Water? is a challenging physics-based puzzler complete with vibrant graphics, intuitive controls, and a sensational soundtrack. To be successful, you need to be clever and keep an eye out for algae, toxic ooze, triggers, and traps.
3 STORIES — 3 SEPARATE GAMES — MORE THAN 400 TOTAL PUZZLES — FREE UPDATES!
AMAZING LIFELIKE FLUID PHYSICS
Go with the flow! Swipe, slosh, and splash to guide fresh water, dirty water, and ooze through increasingly challenging scenarios.
COLLECTIBLES, CHALLENGES, AND BONUS LEVELS
Collect Swampy's shower items and complete Cranky's Challenge to unlock bonus levels. "Tri-Duck" each chapter and tap around for secret levels and even more surprises! Visit www.facebook.com/WheresMyWater for more hints, tips and secrets.
SPONSORED

Every drop counts in Where's My Water? — A refreshing puzzler filled with good clean gaming fun!
Android app Terms of Use:
http://corporate.disney.go.com/corporate/terms-appgen.html
Disney-branded app Privacy Policy: http://corporate.disney.go.com/corporate/pp.html
Screenshots:
Info:
Download size
38 MB
Game requires
media playback
data services
movement and directional sensor
HD720P (720×1280)
WVGA (480×800)
WXGA (768×1280)
$0.99
Supported languages (12)
DeutschEnglish (United States)españolEspañol (España, alfabetización internacional)françaisitaliano日本語한국어Nederlandsрусский中文(简体)中文(繁體)
SPONSORED