Description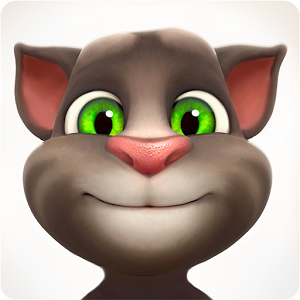 With over 350 million downloads, the worldwide talking phenomenon is a must-play. Don't miss out on the fun!
TALK TO THE LEGEND
★ Talk to Tom and he will repeat after you
★ Laugh out loud at Tom's funny voice
★ Share funny videos with your friends
PLAY WITH TOM
★ Poke his head until he sees stars
★ Pet Tom to make him purr with happiness
★ Make Tom fart for a smelly situation
★ And more!
FEED HUNGRY TOM
★ Spoil your cute virtual pet with his favorite food
★ Give him spicy chilies and watch him react
★ Hand him ice cream for a cold surprise
★ And more!
This app is PRIVO certified. The PRIVO safe harbor seal indicates Outfit7 has established COPPA compliant privacy practices to protect your child's personal information. Our apps do not allow younger children to share their information.
This app contains:
– Promotion of Outfit7's products and contextual advertising
– Links that direct customers to our websites and other Outfit7 apps
– Personalization of content to entice users to play the app again
– Watching videos of Outfit7's animated characters via YouTube integration
– The option to make in-app purchases
– The possibility to connect with Google+
Talking Tom Cat by Talking Tom and Friends
SPONSORED

Screenshots
What's New
TAKE A LOOK: Talking Tom is refreshed and looking better than ever!
FEED YOUR FRIEND: See Tom's funny reactions to his favorite food.
TALK TO TOM: Laugh even louder with the improved talk animations.
CHILD-FRIENDLY: Turn on Child Mode for kids to have unlimited fun.
Permission
This app has access to:
read phone status and identity
modify or delete the contents of your USB storage
read the contents of your USB storage
modify or delete the contents of your USB storage
read the contents of your USB storage
read phone status and identity
receive data from Internet
full network access
prevent device from sleeping
view network connections
Size: 48 MB
Version: 3.0.1
SPONSORED