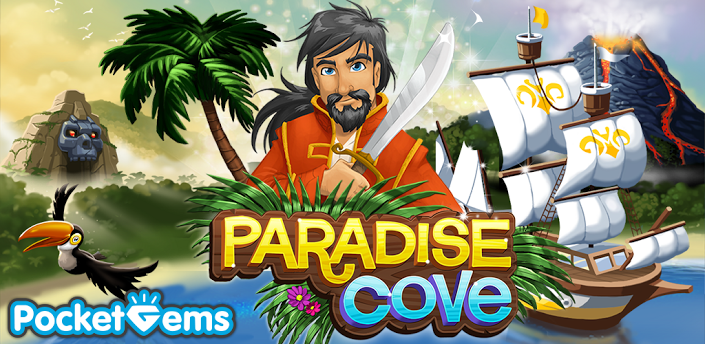 Description
Build a thriving colony on a beautiful island. Grow your town, battle attacking pirates and build ships to voyage to distant islands. Join millions of players worldwide in this exciting city-building adventure game, now available on Android.You are shipwrecked and stranded on a beautiful tropical island. Make this beautiful island your own paradise! Play today and write your own magical story of adventure, intrigue and exploration!
TONS OF FREE FUN FEATURES:
• Build a beautiful island town full of houses, merchants and happy people
• Grow your tiny village into a bustling city
• Defend your island when pirates attack! Command your battleships to take them on
• Explore new worlds with your ships, come back with boatloads of treasure
• Find rare mermaids and send them to hunt for riches
• Discover ancient ruins, exotic animals, hidden treasures and more
• Play for free!
Welcome to Paradise.
By Pocket Gems, the name behind #1 free games like Tap Paradise Cove, Campus Life, Tap Zoo, Tap Pet Hotel, Tap Dragon Park, Chasing Yello on Android and many more.
Please note that Tap Paradise Cove is free to play, but you are able to purchase game items with real money. If you want to limit the ability to make in-app purchases, you may create a PIN in the Settings menu from within the Google Play Store.
Your use of this application is governed by the Terms of Service available athttp://pocketgems.com/terms. Collection and use of your data are subject to the Privacy Policy available at http://pocketgems.com/privacy.
App Screenshots
SPONSORED

What's New
What's in this version:
– Bug fixes
Permissions
THIS APPLICATION HAS ACCESS TO THE FOLLOWING:
NETWORK COMMUNICATION

FULL NETWORK ACCESS

Allows the app to create network sockets and use custom network protocols. The browser and other applications provide means to send data to the internet, so this permission is not required to send data to the internet.

PHONE CALLS

READ PHONE STATUS AND IDENTITY

Allows the app to access the phone features of the device. This permission allows the app to determine the phone number and device IDs, whether a call is active, and the remote number connected by a call.

STORAGE

MODIFY OR DELETE THE CONTENTS OF YOUR USB STORAGE

Allows the app to write to the USB storage.

SYSTEM TOOLS

READ BATTERY STATISTICS

Allows an application to read the current low-level battery use data. May allow the application to find out detailed information about which apps you use.
YOUR ACCOUNTS

FIND ACCOUNTS ON THE DEVICE

Allows the app to get the list of accounts known by the device. This may include any accounts created by applications you have installed.

NETWORK COMMUNICATION

VIEW NETWORK CONNECTIONS

Allows the app to view information about network connections such as which networks exist and are connected.

VIEW WI-FI CONNECTIONS

Allows the app to view information about Wi-Fi networking, such as whether Wi-Fi is enabled and name of connected Wi-Fi devices.

SYSTEM TOOLS

TEST ACCESS TO PROTECTED STORAGE

Allows the app to test a permission for USB storage that will be available on future devices.

AFFECTS BATTERY

PREVENT DEVICE FROM SLEEPING

Allows the app to prevent the device from going to sleep.

CONTROL VIBRATION

Allows the app to control the vibrator.

AUDIO SETTINGS

CHANGE YOUR AUDIO SETTINGS

Allows the app to modify global audio settings such as volume and which speaker is used for output.

DEFAULT

CHANGE SCREEN ORIENTATION

Allows the app to change the rotation of the screen at any time. Should never be needed for normal apps.

POWER DEVICE ON OR OFF

Allows the app to turn the device on or off.
VERSION:2.60.1
SIZE:27M
SPONSORED