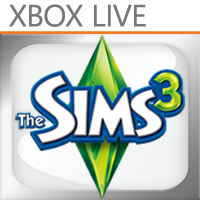 Description
SCORE WITH THE SIMS™ DESIGNED JUST FOR WINDOWS PHONE 7! Enabled for Xbox LIVE®. Slyly give your Sim a competitive edge as you savor hours of entertainment with this award-winning experience of the #1 best-selling PC franchise of all time. Long live The Sims™!
ACHIEVEMENT HUNTER ALERT – XBOX LIVE ENABLED!
Use your existing Xbox LIVE Gamertag or create a new one via the Windows Phone 7 main menu to track achievements and access leaderboards for this version of The Sims™ 3.
• TRACK UP TO 18 ACHIEVEMENTS – Make your Sim the "Life of the Party," a "Self-Helper," or simply "Inappropriate" and score up to 200 Gamerscore points.
• ACCESS UP TO 6 WEEKLY, MONTHLY, AND LIFETIME LEADERBOARDS – See how you fare versus your friends. Who has the most money? Made the most purchases? Or made the most friends?
CREATE SIMS AND KEEP THEM SATISFIED
Make your Sim neurotic, funny, or shy. Draw from a wide array of built-in theme sets to bring your Sim to life with any appearance, clothing, and accessories you choose. Also make sure to fulfill your Sim's basic needs like eating and sleeping to increase the activities you can do together.
EXPLORE WITH TOUCHSCREEN EASE – THE CIRCLE OF LIFE IS INFINITE
Let your Sim loose in the amazing open-world environment. Help your Sim get a job or catch some fish. See your Sim make friends or creep out every other Sim in town. Use your touchscreen to take a closer look or get a wider view of your Sim's world.
SPONSORED

DREAM BIG!
Unlock all 73 goals and wishes, plus finish a set of any Persona Goals to become a "Completionist" – an achievement worth 30 Gamerscore points!
By purchasing and/or using this application, you agree to the terms of the End User License Agreement and EA's Privacy Policy and Terms of Service.
(http://www.eamobile.com/windowsphone7/eula/).
Screenshots
Info
Download size
112 MB
Works with
Windows Phone 8
Windows Phone 7.5
App requires
Xbox
phone identity
photo, music, and video libraries
data services
movement and directional sensor
HD720P (720×1280)
WVGA (480×800)
WXGA (768×1280)\
$3.99(full version)
Supported languages (5)
DeutschEnglishespañolfrançaisitaliano
SPONSORED