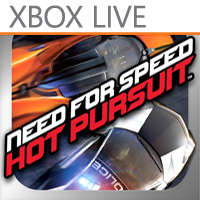 Description
FEEL THE RUSH OF THE ESCAPE AND THE THRILL OF THE TAKEDOWN! Outrun the law as a Racer in supercars like the Pagani Zonda Cinque – or stop racers cold as a Cop in high-speed police interceptors like the Lamborghini Reventon. Enabled for Xbox LIVE®, experience pulse-pounding action as you make the escape or make the bust with Need for Speed™ Hot Pursuit on Windows Phone 7.
TEAR UP THE LEADERBOARDS!
Use your existing Xbox LIVE Gamertag or create a new one via the Windows Phone 7 main menu to track achievements and access leaderboards.
SPONSORED

CHASE ACHIEVEMENTS
Drive up to 20 precision-performance cars in adrenaline-fueled showdowns across 24 day-and-night tracks. Take it to the limit in 48 total Cop and Racer Career Events, collect bounty, and rise to the top of the ranks.
DUEL IT OUT ON THE ROAD
As a Cop, lay down the law with roadblocks and spike strips – or fry the Racer's electrical system with an EMP lock. As a Racer, make the getaway with overdrive, jamming, and oil slicks.
Screenshots
Info
Publisher
Electronic Arts
Works with
Windows Phone 8
Windows Phone 7.5
App requires
Xbox
photo, music, and video libraries
data services
movement and directional sensor
HD720P (720×1280)
WVGA (480×800)
WXGA (768×1280)
Supported languages (5)
DeutschEnglishespañolfrançaisitaliano
SPONSORED