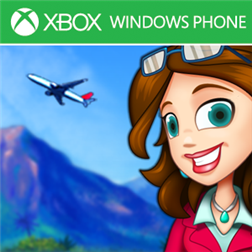 Description
Welcome aboard the next generation of time management! Help April build her budding travel agency empire and fly customers around the world in this gorgeous game of planes, pools, and everything in between. From Hong Kong to Hawaii, nothing is off limits. Time management games come and go, but this one is here for a staycation.
TRAVEL AGENT EXTRAORDINAIRE
Build your travel agency empire on the go and soak in some vacation time wherever you may be. Customize your travel agencies with unique upgrades and make them your own. Fourteen different customer types will test your service skills and intuition.
DIFFERENT WAYS TO PLAY
Five differing styles of time management gameplay ensures you'll always have new and exciting objectives. Three difficulty settings let gamers of all experience levels play, from casual fans to veteran players.
EXOTIC DESTINATIONS
Experience 12 exotic vacation destinations from the Mayan Riviera to Hong Kong to Montreal. Gorgeous, colorful visuals bring the exotic locales to life and simply pop off your screen.
SPONSORED

Screenshots
Info
Download size
40 MB
Version
1.1.0.0
Works with
Windows Phone 8
Windows Phone 7.5
App requires
Xbox
photo, music, and video libraries
data services
HD720P (720×1280)
WVGA (480×800)
WXGA (768×1280)
$2.99(full version)
Supported languages (14)
DeutschEnglish (United States)EspañolEspañol (España, alfabetización internacional)françaisitaliano日本語한국어polskiportuguês (Brasil)português (Portugal)русский中文(简体)中文(繁體)
SPONSORED