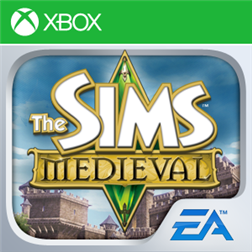 GET MEDIEVAL WITH THE SIMS™! Your favorite lighthearted Sims universe is going old-school – back to the times of castles, kings, jesters and knights!
DELVE INTO A MAGIC STORY-DRIVEN WORLD
Create your hero and determine your Sim's destiny in this new fantasy. From serf and squire to Lady and Lord, role-play even as a Vampire! Immerse yourself in a dramatic adventure where the possibilities are endless.
SPONSORED

QUEST YOUR WAY TO DESTINY
Complete quests to propel your Sims onward. Master skills and make wizardly potions like a death potion – or a love potion. Join parties across a richly detailed medieval realm, or test your skills with features like combat and fishing.
Publisher
Electronic Arts
Works with
Windows Phone 8
Windows Phone 7.5
App requires
Xbox
phone identity
photo, music, and video libraries
data services
movement and directional sensor
HD720P (720×1280)
WVGA (480×800)
WXGA (768×1280)
Supported languages (12)
DeutschEnglish (United States)EspañolEspañol (España, alfabetización internacional)françaisitalianopolskiportuguês (Brasil)português (Portugal)русский中文(简体)中文(繁體)
SPONSORED