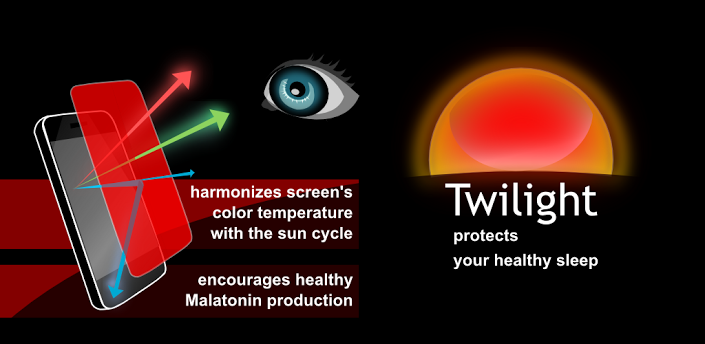 Description
Are you having troubles to fall asleep? Are your kids hyperactive when playing with the tablet before bed time?
Are you using your smart phone or tablet in the late evening? Twilight may be a solution for you!Recent research suggests that exposure to blue light before sleep may distort your natural (circadian) rhythm and cause inability to fall asleep.The cause is the photoreceptor in your eyes, called Melanopsin. This receptor is sensitive to a narrow band of blue light in the 460-480nm range which may suppress Melatonin production – a hormone responsible for your healthy sleep-wake cycles.
In experimental scientific studies it has been shown an average person reading on a tablet or smart phone for a couple of hours before bed time may find their sleep delayed by about an hour.
The Twilight app makes your device screen adapt to the time of the day. It filters the blue spectrum on your phone or tablet after sunset and protects your eyes with a soft and pleasant red filter. The filter intensity is smoothly adjusted to the sun cycle based on your local sunset and sunrise times.
Please read the basics on circadian rhythm and the role of melatonin:
http://en.wikipedia.org/wiki/Melatonin
http://en.wikipedia.org/wiki/Melanopsin
http://en.wikipedia.org/wiki/Circadian_rhythms
http://en.wikipedia.org/wiki/Circadian_rhythm_disorder
SPONSORED

App Screenshots
What's New
What's in this version:
1.7
-ability to auto-pause Twilight in selected apps – predefined for APK installer to fix the install button
-fixes for various bugs in versin 1.6
-Spanish (many thanks to Erick)
1.6
-Fix for "Manual control"
-Fixes for custom sunset and sunrise times
-Donation bottom bar is hidden once the Donation version is installed
-Russian and Ukrainian version (many thanks to Slava)
Permissions
THIS APPLICATION HAS ACCESS TO THE FOLLOWING:
YOUR LOCATION

APPROXIMATE LOCATION (NETWORK-BASED)

Allows the app to get your approximate location. This location is derived by location services using network location sources such as cell towers and Wi-Fi. These location services must be turned on and available to your device for the app to use them. Apps may use this to determine approximately where you are.

YOUR APPLICATIONS INFORMATION

RETRIEVE RUNNING APPS

Allows the app to retrieve information about currently and recently running tasks. This may allow the app to discover information about which applications are used on the device.

OTHER APPLICATION UI

DRAW OVER OTHER APPS

Allows the app to draw on top of other applications or parts of the user interface. They may interfere with your use of the interface in any application, or change what you think you are seeing in other applications.
NETWORK COMMUNICATION

VIEW NETWORK CONNECTIONS

Allows the app to view information about network connections such as which networks exist and are connected.

SYSTEM TOOLS

ACCESS EXTRA LOCATION PROVIDER COMMANDS

Allows the app to access extra location provider commands. This may allow the app to to interfere with the operation of the GPS or other location sources.

YOUR APPLICATIONS INFORMATION

RUN AT STARTUP

Allows the app to have itself started as soon as the system has finished booting. This can make it take longer to start the device and allow the app to slow down the overall device by always running.
VERSION:1.7
SIZE:1.0M
SPONSORED