Splasheep – Splash Sheep game
Description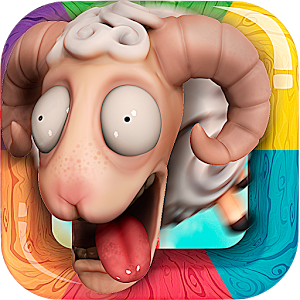 Color has disappeared from all the world! There's only one thing that can be done in this sheep game: throwing colored angry sheep to buildings to paint them.Color has disappeared mysteriously. The world is devoid of all emotion and now is lost in a silent chaos. The only hope is to restore all color. Grab your sheep, travel to distant islands and paint all the buildings the color they used to be. During your journey you might uncover the mystery behind the color disappearance.
SPONSORED

Your goal is to paint the buildings the color they used to be. To do it so you throw colored sheep to them.
Mix primary colors to get other colors, so you have to throw a yellow sheep to a red building to paint it orange.
To fulfill your journey, you'll have four sheep types available, each with different behavior:
• Just-a-sheep
• Bouncy sheep
• Color copy sheep
• Thief sheep
Use your slingshot skill to aim at the buildings, select the best sheep for the job and recover the color in this color puzzle painting game.
Features
• Recover the buildings color in every level.
• Throw colored sheep to paint the buildings with your slingshot skills.
• Use four different sheep types: just-a-sheep, bouncy sheep, color copy sheep and thief sheep.
• Combine colors and get new ones.
Screenshots
What's New
Fixed: When the servers are not avaliable the game doesn´t start
Fixed: Bug preventing to play tutorial on level 28
Fixed: Bug preventing to show tutorial on some levels
permission
Version 1.7 can access:
find accounts on the device
find accounts on the device
read phone status and identity
modify or delete the contents of your USB storage
read the contents of your USB storage
modify or delete the contents of your USB storage
read the contents of your USB storage
read phone status and identity
receive data from Internet
full network access
view network connections
prevent device from sleeping
control vibration
run at startup
 Size: 55MB
Version: 1.7 
SPONSORED