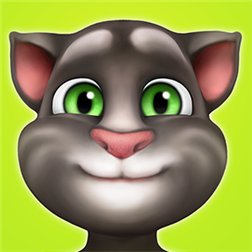 Description
Adopt your very own baby Tom. Feed him, play with him and nurture him from a cute kitten to a fully-grown Tom cat.
Dress him up any way you like by picking from a wide selection of fur colors, hats and glasses. You can even decorate his home and make it more cozy!
Play with Talking Tom like never before and watch as he becomes a part of your everyday life.
The original Talking Tom apps have been downloaded over 500 million times and reached no. 1 in 140 countries.
FEATURES:
– Nurture your very own Tom: Play games with him, feed him his favorite foods, tuck him into bed.
– Enjoy life-like emotions: Tom can be happy, hungry, sleepy, bored… his emotions change according to how you play with him.
– Unleash your creativity: Create your very own Tom by choosing from 1000's of combinations of furs, clothing and furniture.
– Get rewards as you progress: Help Tom grow through 9 different stages and 50 levels unlocking new items and coins as you go!
– Interact with Tom: Talk and Tom still repeats everything you say. Poke, stroke and tickle him, and watch how he responds.
NOTICE:
Users can play and access all levels of the app and all features necessary to progress within the game without making any in-app purchases using real money. Gold coins can be earned by playing in-app mini games, liking the app on Facebook and progressing to the next level. Users can also buy gold coins with real money. Some items are locked and available at higher levels of the app. To buy locked items before reaching the appropriate level, users will have to spend more gold coins than if they wait until these items unlock.
For more information about in-app purchases using real money please see the End User License Agreement available at http://outfit7.com/eula-wp/, section My Talking Tom.
SPONSORED

Screenshots
Info
Publisher
Out Fit 7 Limited
App requires
phone identity
media playback
microphone
data services
SD card
movement and directional sensor
HD720P (720×1280)
WVGA (480×800)
WXGA (768×1280)
Supported languages (13)
العربيةDeutschEnglishEnglish (United States)españolfrançaisitaliano日本語한국어PortuguêsрусскийTürkçe中文
SPONSORED