Description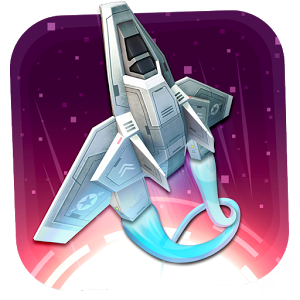 [Surgeon General's Warning]
This game is NOT recommended for the faint of heart. Playing may cause hot flashes, cold sweats, adrenaline overload, destabilization (a.k.a wonkiness), and intense rage/euphoria.
What's all the fuss about?
You are a daring intergalactic pilot, desperately trying to outmaneuver the ravenous pull of a plasma-fueled black hole. You will weave, dodge, cuss, flip, and roll like you've never done in a video game before. And then…you WILL die. A lot.
SPONSORED

Trust us on this.
Like really, really die…a lot.
Please note: Kiz Studios will not compensate you for any phone or tablet thrown at the wall in rage while playing Wonky Ship.
What our fans are saying:
"This is the final frontier. The most intense experience I've had standing up." —Capt. K
"Wonky Ship really blew my mind. Right before I blew up the Death Star." —Luke S.
"Roarghejhwharrrrrr." —M. Falcon Co-Pilot
"And I thought dance-offs were the hardest challenge in space." —Star-Prince. Or was it Space Lord?
"I told our programmers, 'Make a hard game.' Not like this. Not like this." —President, Kiz Studios
From the deeply twisted minds who brought you Halos and Might & Mayhem, prepare to experience one of the most intense, addictive, and challenging arcade games ever created. Invite your friends to play using Facebook Connect and engage in our Multiplayer Madness mode. Joust, ram, and outsmart your fellow pilots to see who gets vaporized first.
In space, no one can hear you scream THIS loud!
Highlights:
• FREE to download!
• INSANE CHALLENGE – Outmaneuver a vicious, plasma-fueled black hole for as long as you can. Easy right?!
• HIGH VELOCITY FUN – Jump in and play INSTANTLY. A game with NO learning curve or respect for your safety.
• BEST YOUR FRIENDS – Earn points to score big and dominate the global leaderboard. Just stay alive!
• DEMOLISH YOUR FOES – Invite up to two additional friends in Multiplayer Mode. Who can you force into the black hole first? Welcome to the ultimate way to lose friends at the speed of light.
• ZEN – Relax. Zone out. Embrace Wonky Ship like the half brother you never wanted.
PLEASE NOTE: Wonky Ship is a completely free-to-play arcade "survival" game. Have technical questions or suggestions? Whether you love it or hate it, our team would LOVE to hear from you! You can reach us at [email protected].
Become a fan of Kiz Studios and follow us for all the latest news:
Visit us at: http://KizStudios.com
Follow us on: twitter.com/KizStudios
Like us on: facebook.com/KizStudios
Watch us at: youtube.com/KizStudios
Important Message for Parents
This game may include:
– Live links to social networking websites that are intended for an audience over the age of 13.
– Live links to the Internet that can take players away from the game with the potential to browse any webpage.
– Advertising of Kiz Studios products as well as products from select partners.
– For optional in-game purchases, the bill payer should always be consulted beforehand.
Screenshots
Permission
Version 1.0.6 can access:
read phone status and identity
modify or delete the contents of your USB storage
read the contents of your USB storage
modify or delete the contents of your USB storage
read the contents of your USB storage
read phone status and identity
full network access
view network connections
Size: 31 MB
Version: 1.0.6 
SPONSORED