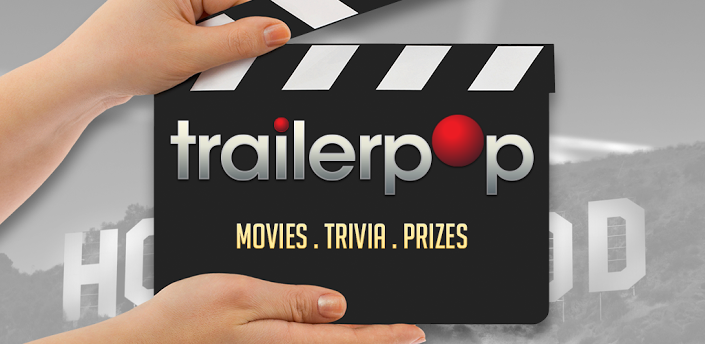 Description
"This is a must have for any movie trivia lover." – CNETPlay hundreds of thousands of trivia questions while watching over 20,000 movie trailers. Who was almost cast as the iconic Mrs. Robinson in The Graduate? How many films have Samuel L. Jackson and Quentin Tarantino worked on together? From The Wizard of Oz to The Matrix, Argo to Key Largo, there's something here for everybody to enjoy.What are your top 3 movies of all time? Most anticipated of the year? Favorite zombie films? Guilty pleasure rom-coms? Join Trailerpop fans worldwide & create movie lists that say something about you. Every list doubles as a unique trivia category whether it's from friends, strangers or even celebrity guests. Don't be listless – the movie community needs you!
Discover a movie that interests you? Trailerpop is fully integrated with:
• Google Play for digital rentals & downloads
• Fandango for ticket purchases
• Netflix, Amazon Prime & Hulu Plus for instant streaming with membership
• Crackle for free instant streaming
Trailerpop is a free entertainment experience. We're constantly adding new trivia, fun categories & updates to the app but we'll never ask you to pay extra for it. Keep loving movies & everything will be fine.
Like us on Facebook – facebook.com/trailerpop
Follow us on Twitter @trailerpop
App Screenshots
Videos
SPONSORED

What's New
What's in this version:
New icon, better Google+ sign-in integration, various bugs zapped away.
Permissions
THIS APPLICATION HAS ACCESS TO THE FOLLOWING:
YOUR ACCOUNTS

USE ACCOUNTS ON THE DEVICE

Allows the app to request authentication tokens.

NETWORK COMMUNICATION

FULL NETWORK ACCESS

Allows the app to create network sockets and use custom network protocols. The browser and other applications provide means to send data to the internet, so this permission is not required to send data to the internet.

PHONE CALLS

READ PHONE STATUS AND IDENTITY

Allows the app to access the phone features of the device. This permission allows the app to determine the phone number and device IDs, whether a call is active, and the remote number connected by a call.

STORAGE

MODIFY OR DELETE THE CONTENTS OF YOUR USB STORAGE

Allows the app to write to the USB storage.
YOUR ACCOUNTS

FIND ACCOUNTS ON THE DEVICE

Allows the app to get the list of accounts known by the device. This may include any accounts created by applications you have installed.

NETWORK COMMUNICATION

VIEW NETWORK CONNECTIONS

Allows the app to view information about network connections such as which networks exist and are connected.

SYSTEM TOOLS

TEST ACCESS TO PROTECTED STORAGE

Allows the app to test a permission for USB storage that will be available on future devices.
Version:1.0.3
Size:14M
SPONSORED