SNIPER X WITH JASON STATHAM
Description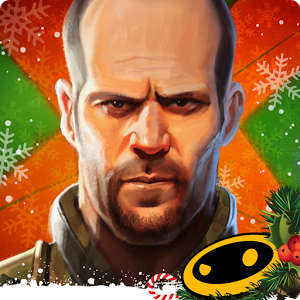 As the one and only Sniper X, you'll team up with action star Jason Statham to become the free world's ultimate weapon against the forces of chaos and terror! As part of the Statham's elite paramilitary team SPEAR, you'll work side by side to dismantle terrorists and rogue states that conventional forces can't touch.BECOME THE ULTIMATE SNIPER • Study the art of the kill under SPEAR's commander, voiced by action star Jason Statham! • As Sniper X, you'll take on hundreds of military missions in incredible 3D environments • Innovative upgrades make your sniper rifle into a truly customized killing machine • Eliminate enemy soldiers, officers, vehicles, and even drones in thrilling first-person action • Zoom in and slow down time with Focus, built in to every sniper rifle • See your kills confirmed with a dramatic kill-cam • The Perfect Shot system rewards careful aim with bonus cash and more! • Star in your own action movie, with Jason Statham calling every kill and conquestJASON STATHAM'S ARMORY IS YOUR PLAYGROUND • Enjoy access to an elite armory where sniper rifles are just the beginning • Dealing with drones? Switch to a shotgun and blast them with a cloud of buckshot • Take down groups of grunts in seconds with your burst-fire assault rifle • Hone your skills and earn cash for upgrades in SPEAR's Training Grounds • Load up with unique weapons month after month in special events The enemies of freedom can run, but they can't hide from Sniper X! High-end, immersive tablet gameplay! Sniper X with Jason Statham is free to play, but you can choose to pay real money for some extra items. Use of this application is governed by Glu Mobile's Terms of Use. Collection and use of personal data are subject to Glu Mobile's Privacy Policy. Both policies are available at www.glu.com. Additional terms may also apply. FOLLOW US at Twitter @glumobile facebook.com/glumobile
Screenshots
What's New
"…survival needs water." The voice monologued.
They held salute as if they could be seen though the speaker. I had another drink
"Scorpion will poison the well…"
I drank my wine. The voice droned on. The propaganda would continue, even with Cobalt dead
Killed by this..SniperX
Finished I tossed the glass next to still warm corpses of the security guards.
"Start the pumps." I commanded
"But sir." They protested. "The plan, the ransom…"
"Forget the plan. Pay or not. Let them drink death today…"
Permission
Version 1.2.1 can access:
find accounts on the device
find accounts on the device
approximate location (network-based)
read phone status and identity
modify or delete the contents of your USB storage
read the contents of your USB storage
modify or delete the contents of your USB storage
read the contents of your USB storage
read phone status and identity
full network access
view network connections
control vibration
run at startup
Google Play license check
prevent device from sleeping
Size: 48 MB Version: 1.2.1
SPONSORED