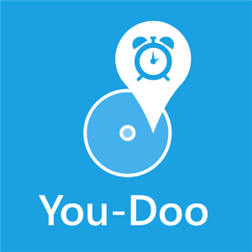 Description
You-Doo is an easy to use proximity based to do list, task scheduler and reminder application. It is simple to use but has powerful features such as a live timeline, user defined gps locations, calendar view, task history and much more.
Set up gps locations where you perform your most frequent tasks. Make one for your home, work, shopping centers, entertainment facilities, etc. You can then define individual tasks that will fire toast message reminders when passing through the defined areas that contain Active Tasks assigned to them.
Organize your day by setting time-sensitive tasks, calendar items and reminders. You-Doo is a full featured task manager and calendar app.
Pin your live tiles and add You-Doo to your lock screen and never forget an item or miss an appointment again!
– Features
• Proximity triggered alerts for tasks
• Live Timeline View
• Live tiles for individual tasks and live timeline
• Configurable gps location groups for categorizing tasks
• Location information with mapping integration to Bing Maps and Foursquare
• Reminders and Notifications
• Multi Language Options
• Calendar view with daily detail
SPONSORED

The pro version is coming soon and will have additional features including friend share, device syncing, cloud saves, recurring tasks, import from Outlook and more!
For more information and answers to frequently asked questions visit us at http://www.plutanium.com
Keywords: Calendar, Task List, Task Organizer, Proximity, GPS, Tasks, Location, To Do List, Task Scheduler, Task Manager, youdoo, you doo
Screenshots
Info
Works with
Windows Phone 8.1
Windows Phone 8
App requires
phone identity
location services
maps
music library
media playback
data services
movement and directional sensor
speech
web browser component
HD720P (720×1280)
WVGA (480×800)
WXGA (768×1280)
Supported languages (6)
DeutschEnglish (United States)Español (España, alfabetización internacional)español (México)françaisрусский
SPONSORED