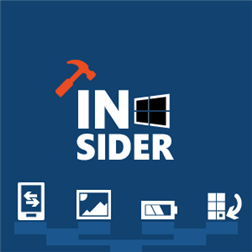 Description
** Insider All-In-One **
This App has a lot of useful functions.
Insider app is an application that shows your phone battery status, software version/ hardware status information, and "Shortcut feature" allows you to easy access your Flashlight and Wi-Fi, Bluetooth, location, Cellular, Airplane mode settings.
(It also allows you to place shortcuts to each of those directly on your start screen.)
Show battery percent and estimation, free storage in live tile and lock screen.
Note!. available on windows phone 8
Want today's Bing background as your wallpaper?
Makes it easy to download and save today's Bing background.
You can also get older images up to six days.
"Windows Phone Compare" compare or check specifications from all available Windows Phone devices. (processor, ram, storage, battery, dimensions, etc…)
All available Windows Phone devices are included from brands like Nokia, HTC, Samsung…
Main Features:
– Support Live Tile / Lock Screen
– Battery Status
– Shortcuts: FlashLight, StopMusic and System Setting Shortcuts(WiFi, LockScreen, Cellular…)
– Today's Bing Backgound: download(up to six days), photo location
– Time Tools: World Clock, Stopwatch, Countdown
– All Windows Phone Compare
– System Info: phone info, version, network, memory…
– Diagnostics: NFC, GPS, LCD, Headset…
SPONSORED

Change Log(v2.6.0.0)
– Support French, Turkish, Bahasa Malaysia language
– Added Battery Stat+(BETA), Timeline
– Added "Time to full charge"
– Added Start-up screen option
– Added Lumia 1020, 625, 822, Ativ S Neo, HTC 8XT spec
– Minor issue and bug fixes
Screenshots
Info
Download size
8 MB
App requires
phone identity
owner identity
video and still capture
location services
maps
media playback
microphone
data services
Proximity
SD card
movement and directional sensor
speech
VOIP calling
HD720P (720×1280)
WVGA (480×800)
WXGA (768×1280)
Supported languages (8)
Englishfrançaisitaliano한국어Bahasa MelayupolskiTürkçe中文(简体)
SPONSORED