youmag, the news by theme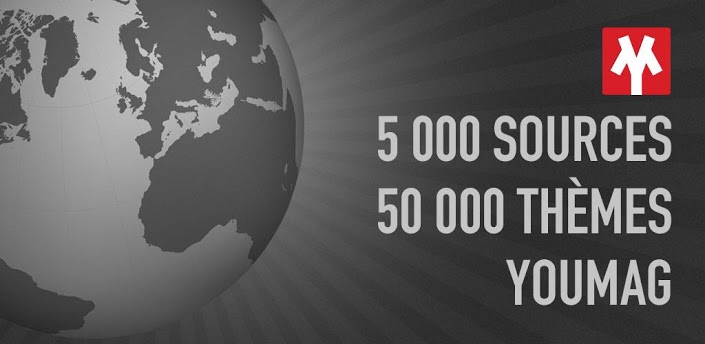 Description
New version of youmag!! We've revamped the app and you can now customize your magazines with themes AND feeds!!
A magnificent and very intuitive user interface! ★★★★★ (Antoine G.)
Probably the best news aggregator! ★★★★★ (Jimmy J.)
A very exhaustive press review and above all totally customizable !!! ★★★★★ (Geraldine L.)★ YOUMAG, YOUR CONTINUOUS NEWS PRESS REVIEW ★
✓ The editorial team's picks, for a comprehensive view of the news thanks to daily press reviews compiled by our journalists.
✓ Your personal magazines with your favorite feeds and themes and among a list of thousands of blogs and news sites and over 50.000 keywords.
Besides, youmag will soon offer premium articles by the unit from the printed press.
❤ DESCRIPTION ❤
youmag is an editorialized and customizable news engine. Our challenge is to enable our users to consume relevant content without struggling to find it.
Everyday, non stop, our editorial team will:
> select the headlines on the "Picks" page in order to give you a comprehensive view of the current news
> write press reviews to save you time and enable you to gain perspective on the news
> outline themes related to current news and select the best sources about it
> help our engine to define intelligent themes like "US Presidential Election 2012" or "Biodiversity"
With its simple and visual browsing, youmag also offers you an intuitive customization experience.
In just a few clics, you can create your own magazines with your favorite themes which you can refine thanks to a library of over 50.000 words filed by type (people, organisation, brand, place, etc…) or concept ("Cases" in Politics, "Transfers" in Soccer, "Organic" in Food, etc…).
Among youmag's many features, you will find on smartphone and tablet :
> 2 widgets : EDITO and MY MAGS
> subscription to notifications, selected by themes
> share on Twitter, Facebook, Google+ and by email
> an adfree service
> a welcome tutorial guide that you can reactivate in your settings
youmag is a digital magazine that revamps your news reading experience around the topics you care about most.
Send us your feedback at [email protected]
App Screenshots
SPONSORED

Videos
What's New
What's in this version:
DISCOVER YOUMAG'S LATEST VERSION
★ You can now customize youmag with your own personnal magazines
★ Personnal magazines that give you an overview of all the feeds and themes you've chosen
★ All of this in a new elegant design for smartphone and tablet
Feedback : [email protected]
Permissions
THIS APPLICATION HAS ACCESS TO THE FOLLOWING:
NETWORK COMMUNICATION

FULL NETWORK ACCESS

Allows the app to create network sockets and use custom network protocols. The browser and other applications provide means to send data to the internet, so this permission is not required to send data to the internet.

PHONE CALLS

READ PHONE STATUS AND IDENTITY

Allows the app to access the phone features of the device. This permission allows the app to determine the phone number and device IDs, whether a call is active, and the remote number connected by a call.

STORAGE

MODIFY OR DELETE THE CONTENTS OF YOUR USB STORAGE

Allows the app to write to the USB storage.
NETWORK COMMUNICATION

VIEW WI-FI CONNECTIONS

Allows the app to view information about Wi-Fi networking, such as whether Wi-Fi is enabled and name of connected Wi-Fi devices.

VIEW NETWORK CONNECTIONS

Allows the app to view information about network connections such as which networks exist and are connected.

RECEIVE DATA FROM INTERNET

Allows apps to accept cloud to device messages sent by the app's service. Using this service will incur data usage. Malicious apps could cause excess data usage.

SYSTEM TOOLS

TEST ACCESS TO PROTECTED STORAGE

Allows the app to test a permission for USB storage that will be available on future devices.

AFFECTS BATTERY

CONTROL VIBRATION

Allows the app to control the vibrator.

PREVENT DEVICE FROM SLEEPING

Allows the app to prevent the device from going to sleep.
VERSION:1.4.2.5
SIZE:4.6M
SPONSORED