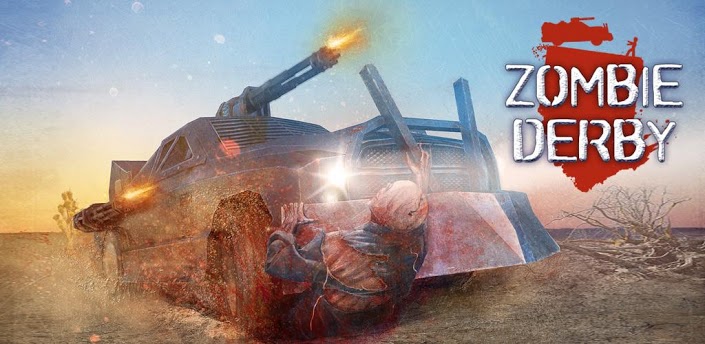 Description
Do you have the drive to survive? Real men have two favourite things; cars and guns. And no stinking zombie apocalypse is going to change that. Take control of your car to see how far you can get and how many zombies you can kill – and if you can actually escape with your brains intact. Four cars are available to get you to the final fort, each capable of holding progressively more loot. Ranging from the simple Redneck pick-up and the classy Hunter and to the tough Sledge and frankly-silly Harvester, you'll enjoy throwing these bodged-up jalopies at the lines of the undead. Each is highly customisable, with 15 upgrades including spiked bumpers, improved tyres, buffed engines, and more ammo, fuel and nitros. With three locations to traverse, handsome 3D graphics and gory shambling bodies, Zombie Derby is a killer game. How far can you get before they get YOU?
• 5 killer cars to drive
• 4 vast levels to explore
• Massively customisable vehicles
• Gory 3D graphics
• Compatible with HD devices
• Addictive gameplay
SPONSORED

App Screenshots
Videos
What's New
What's in this version:
1.0.2
• Minor bug fixes.
Permissions
THIS APPLICATION HAS ACCESS TO THE FOLLOWING:
NETWORK COMMUNICATION

FULL NETWORK ACCESS

Allows the app to create network sockets and use custom network protocols. The browser and other applications provide means to send data to the internet, so this permission is not required to send data to the internet.

PHONE CALLS

READ PHONE STATUS AND IDENTITY

Allows the app to access the phone features of the device. This permission allows the app to determine the phone number and device IDs, whether a call is active, and the remote number connected by a call.

STORAGE

MODIFY OR DELETE THE CONTENTS OF YOUR USB STORAGE

Allows the app to write to the USB storage.
NETWORK COMMUNICATION

GOOGLE PLAY LICENSE CHECK

Google Play license check

VIEW NETWORK CONNECTIONS

Allows the app to view information about network connections such as which networks exist and are connected.

VIEW WI-FI CONNECTIONS

Allows the app to view information about Wi-Fi networking, such as whether Wi-Fi is enabled and name of connected Wi-Fi devices.

STORAGE

MODIFY/DELETE INTERNAL MEDIA STORAGE CONTENTS

Allows the app to modify the contents of the internal media storage.

SYSTEM TOOLS

TEST ACCESS TO PROTECTED STORAGE

Allows the app to test a permission for USB storage that will be available on future devices.

AFFECTS BATTERY

PREVENT DEVICE FROM SLEEPING

Allows the app to prevent the device from going to sleep.

DEFAULT

CHANGE SCREEN ORIENTATION

Allows the app to change the rotation of the screen at any time. Should never be needed for normal apps.
VERSION:1.0.2
SIZE:44M
SPONSORED