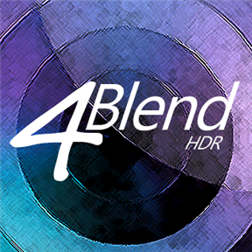 Description
Create stunning photographs using 4Blend HDR.
The first High Dynamic Range camera on Windows Phone using Nokia Imaging SDK, 4Blend HDR creates unique images by applying your choice of filters to the individual shots which make up the final image. Its innovative and award-winning multi-layer HDR algorithm can also be used for "basic" HDR" – creating better photos in difficult light conditions.
Key Features:
SPONSORED

· Apply selection of filters to create your own unique effects
· Unfiltered HDR for better photos in difficult lighting conditions
· Voice activation for tripod use
· Automatic or fully customizable manual camera settings
To take photo using microphone enable voice command option.
Setting microphone with your own appropriate settings you will be able to take photos simply saying
whatever you want command even inside a noisy crowd.
Screenshots
Info
Download size
6 MB
App requires
phone identity
video and still capture
media playback
microphone
data services
movement and directional sensor
HD720P (720×1280)
WVGA (480×800)
WXGA (768×1280)
SPONSORED