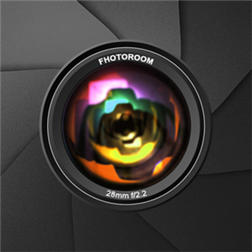 Description
***Community App Awards Best Photo App of 2012***
***Upto 22MP Photo Editing***
Fhotoroom is a pro camera, photo sharing network and professional mobile photo editor. Our Pro Camera is focused on achieving the absolutely best results that your camera can produce by utilizing core camera technologies like our custom EV, as well as ISO, and Exposure time.
Our photo sharing network allows users to show off their photos with our very fast growing community. You can also share your beautiful photos on skydrive, vkontakte, flickr, facebook, instagram or twitter all at once with a single click.
Making beautiful photos in Fhotoroom is easier than ever. Work with photos upto 22MP and still feel like its 1MP. You can fix/tweak your photos using our Basic Editor, give your special moments a unique Style from over +75 different filters which are all customizable and then give your photos a final touch with our custom designed frames.
Features: +75 Powerful Editing Fx, Beautiful Styles, and Custom Designed Frames.
v9.5 Log
– New Invert TiltShift option great for license plates.
– New Straighten Filter under Edit.
– Bug Fixes.
v9.4 Log
– Comments and Likes on separate page for easier reading, posting as well as faster loading.
– Minor Bug fixes.
v9.3 Log
– Reply to Photo Comments
– Structured Photo Message no need to figure out who is talking to who.
– New UI Changes for easier Navigation
– New Home Icon
– Added Text Under Bottom menu controls.
– TRUE full screen HD zoom with landscape support
– New Correction Filter
– New Exposure Filter
SPONSORED

v9.2 Log
– Fixed Facebook Authorization due to Facebook API changes.
– 2x Faster Loading Content
– Minor Bug Fixes.
v9.1.9 Log
– Optionally use of Accent Color across entire app experience in Settings Personalize.
– New Addition to TiltShift which allow to apply a vignette at the same time. High Focus value recommended.
– Bug Fixes
– Other UI update to match new Accent Colors.
Screenshots
Info
Download size
9 MB
Works with
Windows Phone 8
Windows Phone 7.5
App requires
phone identity
owner identity
video and still capture
location services
media playback
data services
Proximity
SD card
movement and directional sensor
HD720P (720×1280)
WVGA (480×800)
WXGA (768×1280)
photo, music, and video libraries
camera
SPONSORED