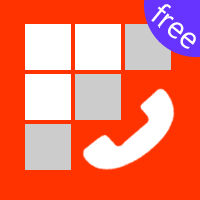 Description
7dialer allows to quickly call any of your contacts. Simply launch this app and use its intelligent keyboard with predictive search to get the contact you want to call, sms or email. Saves you a lot of time!
On second tab it features a People Wall where you can pin any favorite contacts for even quicker access! This wall has many different layouts you can navigate through and setup.
7Dialer loads and operates faster than most of the dialer apps available in the Marketplace. Try it yourself!
SPONSORED

√ Smart dialing/filtering with number pad or keyboard pad
√ Copy & paste numbers or contact details
√ Automatic and manual dialing prefixes
√ Automatic contacts syncing
√ Option to call, SMS or email
√ "Call later" reminders
√ People wall (aka favorites) with customizable layouts
√ Dial tone sounds
√ Breathing effect for contact tiles
√ Outgoing call history
√ Option to add or edit contacts
√ Send contacts
√ Voice mail shortcut
√ Live tiles support
√ Custom background for dialpad
There is also a paid version without Ads and faster startup. Just search for '7dialer' to get it.
We'll be reading your reviews but can't answer from here.
Visit http://7Dialer.jdbpocketware.com to contact us or send us feedback.
Screenshots
Info
Publisher
JDB Pocketware
Works with
Windows Phone 8
Windows Phone 7.5
App requires
contacts
phone identity
owner identity
photo, music, and video libraries
data services
movement and directional sensor
camera
HD720P (720×1280)
WVGA (480×800)
WXGA (768×1280)
Supported languages (3)
EnglishEspañol (España, alfabetización internacional)русский
SPONSORED