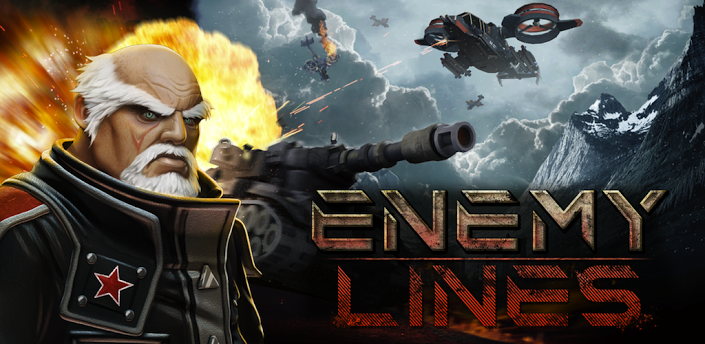 Description
The world has become a cutthroat battlefield and you have been thrown into the fray. Rise from the ashes, consolidate your military might, and take your revenge!Train and upgrade your troops, play through a riveting campaign of conquest, and battle other players in this exciting real-time strategy game.In Enemy Lines, you will:
– Train infantry, vehicle, and air units with special combat skills
– Face off against the Blackscar enemy in an immersive campaign
– Engage in intense player vs. player battles for resources and medals
– Form Alliances and compete in weekly tournaments with ladders and leagues
SPONSORED

WARNING: Enemy Lines will make you want to battle on for hours!
IN-APP PAYMENTS: Enemy Lines is free to play but you can buy special items to use in game.
LOG PERMISSION: We use log permission to debug the game. Help us catch pesky bugs!
App Screenshot
Videos
Permissions
THIS APPLICATION HAS ACCESS TO THE FOLLOWING:
NETWORK COMMUNICATION

FULL NETWORK ACCESS

Allows the app to create network sockets and use custom network protocols. The browser and other applications provide means to send data to the internet, so this permission is not required to send data to the internet.

PHONE CALLS

READ PHONE STATUS AND IDENTITY

Allows the app to access the phone features of the device. This permission allows the app to determine the phone number and device IDs, whether a call is active, and the remote number connected by a call.

STORAGE

MODIFY OR DELETE THE CONTENTS OF YOUR USB STORAGE

Allows the app to write to the USB storage.
YOUR ACCOUNTS

FIND ACCOUNTS ON THE DEVICE

Allows the app to get the list of accounts known by the device. This may include any accounts created by applications you have installed.

DEVELOPMENT TOOLS

READ SENSITIVE LOG DATA

Allows the app to read from the system's various log files. This allows it to discover general information about what you are doing with the device, potentially including personal or private information.

NETWORK COMMUNICATION

VIEW WI-FI CONNECTIONS

Allows the app to view information about Wi-Fi networking, such as whether Wi-Fi is enabled and name of connected Wi-Fi devices.

RECEIVE DATA FROM INTERNET

Allows apps to accept cloud to device messages sent by the app's service. Using this service will incur data usage. Malicious apps could cause excess data usage.

VIEW NETWORK CONNECTIONS

Allows the app to view information about network connections such as which networks exist and are connected.

SYSTEM TOOLS

TEST ACCESS TO PROTECTED STORAGE

Allows the app to test a permission for USB storage that will be available on future devices.

AFFECTS BATTERY

CONTROL VIBRATION

Allows the app to control the vibrator.

PREVENT DEVICE FROM SLEEPING

Allows the app to prevent the device from going to sleep.
VERSION:2.0
SIZE:42M
SPONSORED